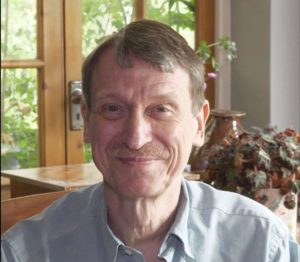 This week's video is a chat with my good friend, Jon Atack about his recently started YouTube channel: jon atack, family and friends. I told him that I wanted to let my readers know about the really interesting and important content he has been posting. I am excited to announce he now has over 500 subscribers! He has been covering so many important topics.
Jon Atack is an independent scholar on manipulation and undue influence. His first major book was the best-selling, Let's Sell These People a Piece of Blue Sky. In my opinion, it is the best book on Hubbard and Scientology and a must-read, especially for anyone interested in this cult. Many people do not know the lengths Scientology went to suppress the publication of his book. They harassed him mercilessly because he was deemed to be such a threat, I believe Scientology appealed to the Supreme Court in the attempt to suppress it. The book was so thoroughly documented that, of course,  it was allowed to be published. If you have not read it, he has a newer edition out with so much more in it.
We became good friends as soon as we met and hung out. This was in 1989. The photo below was taken during that visit. One of his paintings is in the background. Many people do not know that Jon is an artist, musician, novelist and more. He is brilliant and a true Renaissance man.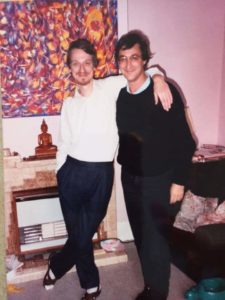 Since leaving Scientology as an OT5, Jon has done more research about Hubbard than anyone in the world. He has helped over 600 people, mostly but not exclusively, in their recovery from abuse in high-control groups. Jon is recognized as an expert witness by the English High Court and has been consulted in more than 150 court cases around the world.
Jon has lectured around the world and contributed to many books, articles, and media pieces. In the mid-1990s, understanding that the same dynamics apply in all coercive relationships, he shifted his focus to the broad range of groups and individuals using manipulation. He has studied terrorist radicalization, gang formation, and more recently human trafficking, pedophile grooming and coercive control in personal relationships. Jon's book Opening Minds: the Secret World of Manipulation, Brainwashing and Undue Influence details his research in these areas.
Jon's publications include:
A Piece of Blue Sky: Scientology, Dianetics and L. Ron Hubbard Exposed, 1990 (2nd expanded edition, Let's Sell These People a Piece of Blue Sky, 2013, 2018)
Scientology: the Cult of Greed, 2014
Opening Minds: the Secret World of Manipulation, Brainwashing and Undue Influence, 2015, revised edition 2018
A Way to Life, the Tao Te Ching of Lao Tze, translation 2017
I asked Jon to edit the new Combating Cult Mind Control in 2015. I asked him to add information about Scientology that he felt people needed to know. For folks who read the original Combatting Cult Mind Control (two ts in Combating as that is British spelling) they know there was almost nothing in it about Scientology. In 1988, my publisher would not allow me to put much in due to fear of a lawsuit. This new edition includes Jon's account in Chapter 6. Jon has co-authored chapters with me for a forthcoming textbook for Springer and one for Oxford University Press.
Description of his YouTube channel:
author jon atack, along with his son sam, present a series of educational videos on how to spot, avoid, and overcome unethical manipulation of all kinds – from destructive cults and abusive relationships, to advertising, groupthink, bullying and more. join us in our hope  to create a world where people are taught from infancy to stand up for their rights, look deeper into what they're being told, and to question everything!

from time to time we will also be sharing "lighter" fare – videos on art, music, and literature, featuring jon's younger son dan on guitar, sam's amazing paper sculptures, and other tidbits that strike us as interesting, fun, or engaging. we hope you enjoy our channel as much as we do!
Jon's channel started with a single focus of prevention aimed towards undue influence but now has a much broader scope. Included are videos showcasing his son's musical talent, analysis of art, discussions with his other son, Sam. He has an ongoing series exposing/deconstructing the New Kadampa Tradition (a Mahayana Buddhist cult) with Dr. Michelle Haslam. And has been sharing portions from the Getting Clear conference in Toronto where he, myself, Chris Shelton and Christian Szurko deconstructed Scientology training routines.
But Jon's main goal is not to tell people what to think but, rather, to get people talking which, in turn, helps them to think independently.
Recommended top three videos:
Subscribe: here
Facebook Group: join here
Follow Jon on Facebook: here
Support Jon's Work: here
Video Discussion
Interviews and Blogs with Jon Atack