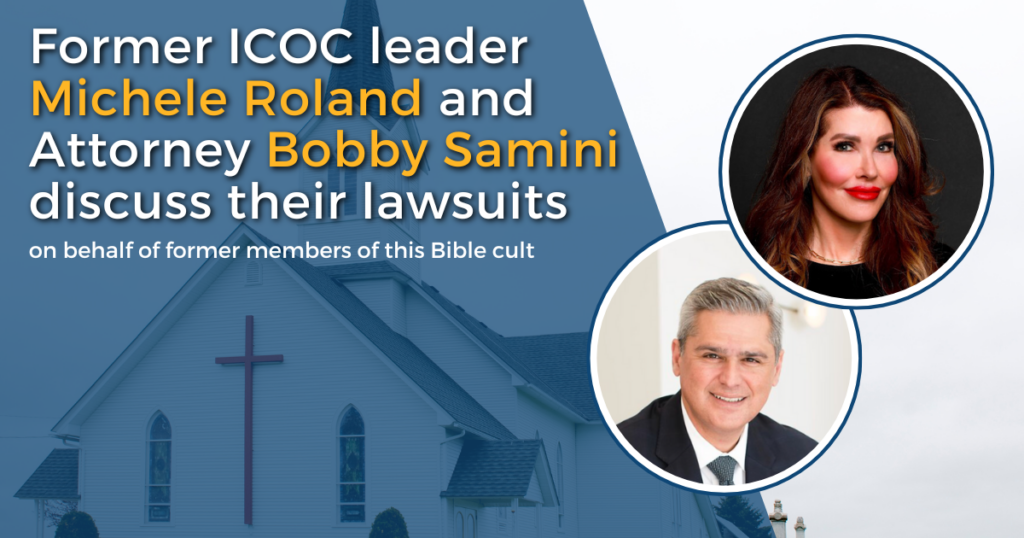 Many cults are the subjects of lawsuits by former members, and the International Churches of Christ (ICOC) are now joining that group as former members seek the justice they deserve.
Michele Roland is a survivor of the ICOC, having spent 17 years as a leader. She is now an entrepreneur, author, producer, brand developer, and founder of the bWell Network. She is writing a memoir about her indoctrination and trauma recovery experiences, which should be published next year. A streaming scripted series inspired by her experience in the cult is also in the works.
Love Bombing Used to Recruit
Roland was recruited into the cult as a 21-year-old Long Beach, California, college student. She was waiting tables at a restaurant, and a married couple would sit in her section at least twice a week. They would specifically request seating in Roland's section and would wait an hour for a table if they had to. They invited her to church, and she felt that church couldn't be so bad, that "it was just God."
Unfortunately, her experiences within the church were more than bad; they were horrific and devoid of any loving, Christ-like treatment. The manipulation techniques used on Roland are well-known within cults and are laid out in my BITE Model of Authoritarian Control.
Hierarchy, Patriarchy, and Homophobia
From the beginning, the love bombing increased; they were in her life and mind daily. Within a few weeks, she was leading the teen ministry and came to understand the church's hierarchical structure with Kip McKean at the top of it. Speaking up was punished severely, so for Roland, compliance became the path of least resistance. Tithing 10 percent was the minimum expected, but members had to give all their money to the church to be considered "true" believers. Additionally, the structure was patriarchal and homophobic, which meant that if a husband confessed lustful thoughts, the wife would be blamed for not meeting his needs.
Roland had moments of clarity during her 17 years within the cult, where she thought about how she was feeling, the incongruency of that, and what she was experiencing. She was suffering from anxiety, physical issues, and crying daily. Ultimately what freed her was realizing her horrific marriage to someone she barely knew within the cult was not something a loving entity would expect her to endure.
In Search of Justice
For several years following her exit from the cult, Roland checked in with various people seeking justice, one of whom was nationally recognized trial lawyer Bobby Samini. Roland was looking for recourse for having given money under compulsion, being told she was going to hell if she didn't give a specific amount or that she would be disfellowshipped. This was a difficult legal line to walk because these cults are often protected by religious laws. However, Samini questioned Roland about sexual abuse in the ICOC, and she was able to provide stories from others, which were shared on her podcast and on the Facebook Survivor's Page.
Samini got involved and interviewed a few of the survivors, wanting to help after hearing that they were trying to speak out, but were ostracized for doing so. Reporting it to the higher-ups within the church was met with coverups and being told they should forgive their abusers.
Wanting to give these survivors a voice, Samini filed lawsuits against the ICOC for 16 different plaintiffs, with many others still to be filed. They allege the leaders failed to report and plotted to conceal the sexual and emotional abuse of women and children within the cult. A 501 c 3 is being set up to further help former members. We discussed how so many attorneys do not accept cases by former members either because they do not understand the nature of undue influence or because they are only interested in making money. Samini is interested in social change and raising awareness of abuses. The three of us discussed my doctoral dissertation and how it could be useful to not only do research but to enable expert witnesses to educate judges and attorneys.
The true picture of abuse within these cults is emerging through the stories of survivors and the lawsuits filed. We must ensure people continue to understand the story behind the church doors.
Resources:
FOM: International Churches of Christ group resource page
What is harmful about the ICOC and other Shepherding Discipling organizations?
Color-coded BITE model analysis of the ICOC
Free2b.org A soon-to-be-activated non-profit organization to help former members
Not Your 'Church Next Door': 'Cult' Ignored Abuse Ran 'Pyramid Scheme' Lawsuit Claims Rolling Stone ANDREA MARKS DECEMBER 31 2022 6:09PM EST
Church leaders concealed sexual abuse of young children lawsuits allegations. LA Times BY NGAI YEUNG SAM MOSKOWFEB. 28 2023 5 AM PT. LA Times
US Christian group accused of covering up sexual abuse of minors. Lawsuits claim International Churches of Christ leaders failed to report as well as plotted to conceal abuse of women and children The Guardian by Natalia Borecka in Los Angeles Sun 19 Mar 2023 03.00 EDT
International Churches of Christ Faces Lawsuit for Covering Up Child Sex Abuse Financial Manipulation Christian Headlines by Amanda Casanova
International Churches of Christ abused pressured members financially to the point of suicide: lawsuit The Christian Post By Leonardo Blair Senior Features Reporter
Five women sue Christian organizations – the International Churches of Christ – for 'covering up child sexual abuse and exerting financial pressure on member to the extent that some killed themselves' The Daily Mail By Aneeta Bhole For Dailymail.Com15:53 10 Jan 2023 updated 21:45 10 Jan 2023