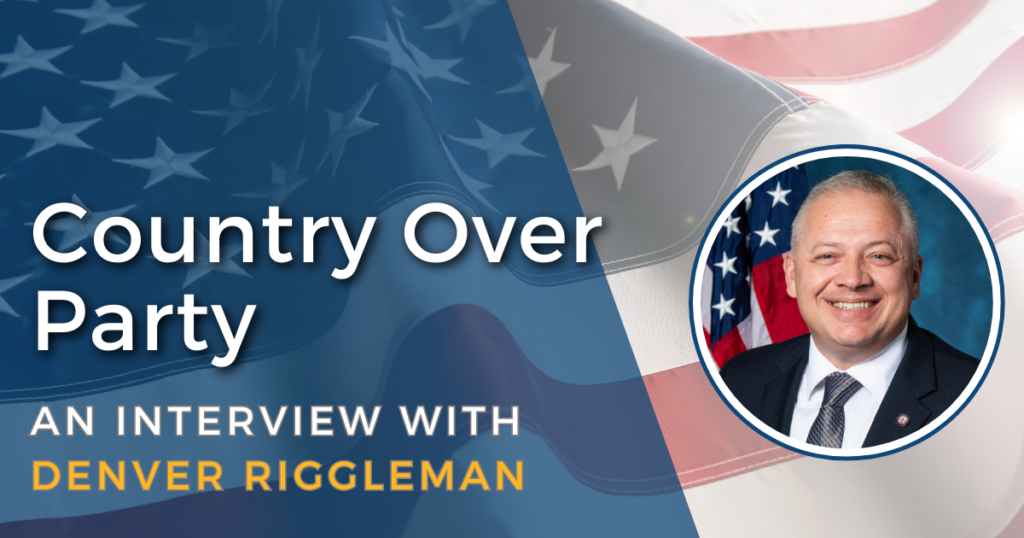 In an increasingly polarized society, our country needs compassion and critical thinking more than ever. Isolation due to social media and the work of political demagogues can keep us from exploring alternate perspectives. Being taken in by these forces does not make you stupid or weak. However, resistance can reflect intelligence and strength of will. We learn about this strength in Denver Riggleman's book The Breach: The Untold Story of the Investigation into January 6th. Denver joined us on the podcast to discuss the book, his career in the military and as a congressman, and how to battle black-and-white thinking in politics. 
Denver Riggleman has supported advanced intelligence analysis and technical development programs for over two decades as an intelligence officer, NSA adviser, federal contractor, research and development technology lead, and successful CEO of support companies for the Department of Defense. A veteran of the Global War on Terror and multiple worldwide operations, he served honorably in the US Air Force for nine active-duty years. Riggleman is a former member of the House of Representatives. He represented Virginia's Fifth Congressional District as a Republican from 2019-2020, and he served as a senior technical advisor for the House Select Committee to Investigate the January 6th Attack on the US Capitol. He is the CEO of Riggleman Information and Intelligence Group and co-owner of the award-winning Silverback Distillery. Riggleman currently lives in Virginia with his wife and family.
Positive Leadership for Our Country
In the military, Denver had the idea of positive leadership modeled for him by a mentor who told him that a leader should rarely use the word "I." This idea of thinking in terms of "we" dovetailed nicely with his experiences growing up. Denver's family raised him in the Church of the Latter-Day Saints, an organization I write and speak about. While Denver and I both still have love and respect for numerous Latter-Day Saints, he recalled feeling uncomfortable when his religious education talked about outside perspectives. As he was a voracious reader, his religious mentors warned him about indulging in books written by non-Mormons. This religious teaching didn't sit right with him and laid the foundation for his departure from the church later in life. 
These experiences served him well during his career as a congressman, during which his political mentors frequently urged him to keep to the party line. As a Republican who supported causes like marriage equality and climate change action, his Republican mentors repeatedly told him that he would get in trouble for expressing his values. This situation all came to a head when the committee investigating the January 6th assault on the capitol tapped him to serve as an advisor. According to some Republicans, he was now working against one of the Republican Party's greatest assets: Donald Trump.
Denver worked with analytical professionals he called unsung American heroes for their work unraveling the data surrounding Mark Meadows' cell phone records. Like his mentor from his military days, he stands for honesty and appreciation of the unique expertise of his colleagues. We need these leadership qualities in the modern political landscape. 
Apostolic Cage Match
Healthy leadership contrasts with the destructive ways men like Donald Trump play for an unhealthy degree of lionization from their followers. It's easy to see the influence of the prosperity gospel in his leadership ethos. We discussed the New Apostolic Reformation, their support of Trump, and the idea of Trump as a divinely-blessed leader or prophet. Many involved in the NAR "prophesied" Trump's election in 2016. When he took office, he won new NAR followers and admiration from old NAR followers. They made the same prediction about 2020. When Joe Biden won, followers started arguing about whether or not those predicting Trump's win were false prophets. Denver referred to the back-and-forth of this controversy as something like watching a fistfight between supposed prophets. A humorous image, but less so when you consider the aftermath. Some followers turned to conspiracy theories to explain why their chosen hadn't taken office a second time. They believed someone stole the election.
January 6th and Fake News
Denver warned that while the event was over, the people responsible were still active. They are voting members of society or even running for elections. He highlighted the strategic nature of the attack, citing the sophisticated organization evidenced by the data he examined. This attack was not just an impulse decision.
He also noted they have an unprecedented command of digital disinformation tactics. This fourth-generation warfare radicalizes vulnerable people via a variety of platforms. Information, Denver said, is the actual forever war. 
The antidote to this is to uplift real-life connections. I shared my personal preference for using a combination of complex hard data sources and faith for exploring opinions, giving the example of a doctor friend who advised me to ignore all the controversy and get the COVID vaccine. Denver enthusiastically approved this approach: search for evidence but don't be afraid to discuss it with a friend whose knowledge you trust. And, he added, if you disagree with your friend, don't be afraid to express that you still care for the person or apologize for any harsh words that might have come of it. During the interview, we discussed the pull to exercise empathy vs. the need to validate healthy anger. I advised Denver to keep his values and boundaries always in mind. Don't walk so long in another person's shoes that you forget yours, in other words. However, this controlled empathy should never preclude compassion.
Resources:
The Breach: The Untold Story of the Investigation into January 6th by Denver Riggleman
Wikipedia Biography for Denver Riggleman