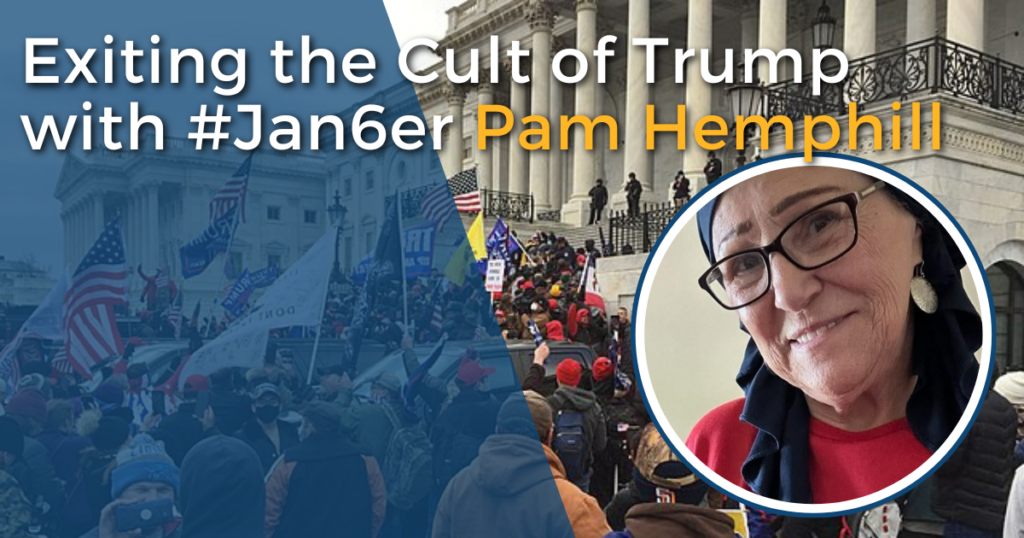 This week the Influence Continuum podcast hosts Pam Hemphill, a 70-year-old cancer survivor from Idaho. Pam has been in the news speaking out because of her involvement in the January 6th assault on the Capitol. Pam is now a vocal detractor of the cult of Trump. She's been a fan of the podcast and of Freedom of Mind in general and joined us to discuss how her life changed because of Trump. She is a retired Substance Abuse Counselor who says she has 44 years in recovery. She served a 60-day sentence for her involvement in the attack, which former President Trump encouraged. After serving her sentence in federal prison, Ms. Hemphill learned information contradicting the narrative she had believed was truthful. That interaction with facts inspired her to continue seeking information not circulated in her previous media sources. For several months, Pam has been hosting Twitter Spaces to "Stop the Spin" and push back against the gaslighting and lies of January 6th defendants and defenders. Ms. Hemphill says she now realizes she was part of a cult and is on a mission to help others recognize what happened to them so they may reevaluate their prior beliefs.
Entering the Cult of Trump
Unlike the highly-publicized face of the Trump supporter, the angry young white man, Pam Hemphill, had lived a whole life before she got involved with his presidential campaign. After retirement, she says she volunteered as a videographer and citizen reporter. She was asked to tape a meeting held by Ammon Bundy, anti-government agitator and far-right activist. In retrospect, Pam wishes she had researched Bundy before ever agreeing to meet and record him. The only image she had of him was the one he presented at his controlled meeting: a down-to-earth Christian man who seemed to agree he was too against violence when she queried him. He said he just wanted to uphold the Constitution. She accepted his lies. She then was positioned to distrust anyone who warned her about him.
We discussed how she might have been particularly vulnerable to Trump's influence because of the toxic family environment in which she grew up. She says her mother was a narcissist. She told me she hadn't liked Trump before his presidential campaign and found his attitude toward his employees unsettling. She was unaware of how inappropriate and abnormal his behavior was. And like many, she did not think of political leaders as being able to build cults. Like so many others, she thought a cult had to be religious. But of course, anyone in any sphere of influence can abuse their power.
During the January 6th insurrection, Pam says she was surprised by the helpful and professional demeanor of the Capitol Police when faced with the protestors. She also says she was taking pain medication from her battle with breast cancer. After encouraging the protestors that this was "their house", Pam was shoved to the ground. One officer gave her a hand up when the crowd was trampling her. She says that the officer saved her life. She does not know this person's name but credits them as a significant figure in her shift away from the cult of Trump. She would love to know the officer's name to thank him profoundly.
She served a short prison sentence. She says she came out of jail still a Trump supporter but more skeptical. Her initial turning point came when Trump changed his tune on January 6th and said he would pardon the protesters if he were still in office. Pam remembered the chaos of the day and decided once and for all that Trump was a liar.
Walking Free
Pam felt deeply betrayed. She had been a pawn in a massive political game and had gone to prison for her involvement. But Trump, the top dog, still walked free and unpunished. The injustice of this rankled. Almost immediately, she began sharing her new viewpoint on social media, desperate to reach people who were still indoctrinated. She got pushback from both sides. She was accused of being a traitor. They angrily told her she was destroying the nation. So much power was attributed to her, yet she said it felt like nobody was listening. It was expected that people who remained angry about the 2020 election wouldn't support her, but she wasn't prepared to deal with the disdain she got from the left. Sometimes, it seemed there was no way to get anybody on her side. I sympathized. There were things I did while involved with the Moonies that were shameful, but because that was so long ago, nobody came to me about them. Still, I know what it's like to be baited by bad-faith commenters. You can only live your values and hope those who matter can see that you're the real deal.
She reached out to others she felt were manipulated and used by Trump. Pam said she wanted to get the facts and present them. She prefers to avoid using the word "truth," as many claim to have it. I pushed back on that perspective. There are objective truths; there are facts that don't have alternatives. She liked that idea very much. That solidity that can be so threatening when under undue influence is beautiful once you can have it. It doesn't mean intellectual restrictiveness but rather stringency. It means standing on solid ground intellectually and knowing what you're fighting for. Years after she was part of a crowd on the steps of the Capitol, Pam Hemphill stands apart, and she knows the freedom she's fighting for.
Pam has been holding Spaces and participating in them- this is what Twitter (now called X) has for its live audio feed. Lev Parnas, Stephanie Winston Wolkoff, and others who now talk publicly about having exited the cult of Trump have participated. I have appeared twice, wishing to answer questions and empower people to effective activism. In the meanwhile, two significant events have taken place. Special prosecutor Jack Smith indicted Trump for four counts involving alleged actions to undermine the Constitution and falsely claiming he won the 2020 election. Hundreds of people like Pam have already been convicted of the attack on the Capitol to disrupt the counting of Electors. Former VP Pence has been speaking about how Trump told him to subvert the will of Americans. Governor DeSantis has publicly admitted Trump lost the 2020 election and said Biden is the duly elected President. Trump faces several other major criminal lawsuits, and speculation abounds about who might be next to turn on him. Ivanka and Jared Kushner? Rudy Giuliani? Sydney Powell?
I wish to get help to develop a much more robust social media campaign emphasizing Freedom of Mind. This involves empowering former members to speak out and share their stories. Igotout.org is committed to this effort. I also wish to organize training for media, law enforcement, attorneys, judges, and politicians. Knowing how to use the Influence Continuum and BITE Model of Authoritarian Control can be used to help citizens discern undue influence. Everyone can be taught about dissociative disorder 300.15 in the DSM-V, which identifies brainwashing and cults as mental illness. Everyone can begin a systematic effort to reconnect with their family and friends to have respectful conversations which ask questions and pursue facts. Please join us!
Resources:
Jan. 6 Rioter Calls Out Donald Trump for Posting About Her on Truth Social – Newsweek

January 6 Convict Exposes Donald Trump's Manipulation – 7News Australia

Jan. 6 Convict Tells the Truth About Trump: He's a Cult Boss – Daily Beast

'Stop Using Me' January 6 Defendant Tells Trump: 'I'm Not a Victim' – MediaIte

Former Trump Supporter Says She was Brainwashed – CNN or on YouTube

Former Jan 6 Trump Supporter Calls MAGA a Cult – Raw News and Politics

LIVE: J6 Grandma ESCAPES MAGA CULT and SLAMS Trump – The Weekend Show – Meidas Touch Network

Capitol Rioter Celebrates Trump's Jan. 6 Indictment: He 'Manipulated Me' – Newsweek