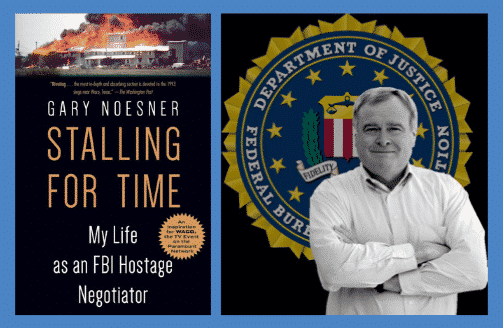 The last few years and, especially 2020, has polarized many people from family, friends, and country. There seems to be a big divide in politics, religious beliefs, and even whether science and experts are trustworthy. Most of us know someone–friend, family member, neighbor–that is caught up in a conspiracy theory or harmful belief system. To help them, I have always been a firm believer in putting yourself in their shoes, to understand how they "see the world" in order to help them. Respect and compassion and patience are all required.
My guest for this week's blog,  Gary Noesner (former Chief Negotiator for the FBI) teaches this when he trains people to be more effective negotiators. He teaches that to help someone, actively listening and making sure the person knows you are really taking them seriously is so important. So, he says to do your best to understand the views and experiences of others without judgment. By doing this, you will be much more successful in connecting with them and influencing them constructively.
I recently listened to Gary's book, Stalling for Time: My Life as an FBI Hostage Negotiator, and watched the docuseries partially based upon his book entitled, "WACO." The series was also based on cult member David Thibodeau's book Waco: A Survivor's Story. Noesner's humanity and approach really resonated with me. For my forty-four year career, I have had to develop deep empathy in order to "enter people's models of reality." For example, how do Scientologists think? What are the beliefs installed in them? By interviewing former top people who had left the cult, reading books, and having many hours of experience counseling people, patterns emerge.
About Gary Noesner, Former FBI Negotiator and Author
Gary Noesner retired from the FBI in 2003 following a 30-year career as an investigator, instructor, and negotiator. A significant focus of his career was directed toward investigating Middle East hijackings in which American citizens were victimized. In addition, he was an FBI hostage negotiator for 23 years of his career, retiring as the Chief of the FBI's Crisis Negotiation Unit, Critical Incident Response Group, the first person to hold that position. In that capacity, he was heavily involved in numerous crisis incidents covering prison riots, right-wing militia standoffs, religious zealot sieges, terrorist embassy takeovers, airplane hijackings, and over 120 overseas kidnapping cases involving American citizens.
Following his retirement from the FBI, he became a Senior Vice President with Control Risks, an international risk consultancy, assisting clients in managing overseas kidnap incidents. He continues to consult independently and speaks at law enforcement conferences and corporate gatherings around the world.
He has appeared in numerous television documentaries about hostage negotiation, terrorism, and kidnapping produced by the History Channel, National Geographic, WE, Discovery, TLC, A & E, CNN, CBS, BBC, American Heroes Network, and others.  He has been interviewed in Time, Forbes, the New Yorker, the Washington Post, the New York Times, Roll Call, the Washingtonian Magazine, the Christian Science Monitor, and other publications.  He has given speeches at major universities, done interviews on numerous radio and television programs, and was the subject of an hour-long interview on NPR's Fresh Air in 2010.
He has written a book about his FBI negotiation career which was published by Penguin Random House in 2010, entitled: Stalling for Time:  My Life as an FBI Hostage Negotiator.    The book was used in part as the basis for a six-part mini-series on Waco that aired on the Paramount Network on January 24, 2018.
To learn more about or contact Gary Noesner check out his website: http://garynoesner.com/
Discussion
The tragic events involving the Branch Davidians of David Koresh at Waco in 1993 affected me deeply. I lived through it. I had been deprogrammed out of the Moonies in 1976, my book Combating Cult Mind Control had come out in 1988, and I felt so frustrated by what I was seeing in the media following the ATF raid. Family members were contacting me to try to help their loved ones who were inside the cult building. I had many strategic ideas to offer. I certainly believed that utilizing family members could have been done in a way to maximize positive results and minimize negatives. Koresh was such a clear narcissist and womanizer– including having sexual rights to all women and underage girls in his cult. Noesner agrees with me that Koresh was portrayed far too favorably in the docuseries.
I wanted to help. I tried reaching out through my congressman to the FBI and Attorney General Reno's office. The response was pretty much, "we know what we are doing and don't need any help." I felt helpless. As the standoff continued, I started doing television interviews including one on Sonya Live on CNN and the Joan Rivers Show to publicly talk about cults and what I believed the FBI could be doing differently. I also did a talk for the Harvard Humanists after my second book came out, Releasing the Bonds. I spoke in-depth on my take on what happened with the Koresh cult and the government and my thoughts on what might have been done differently–since no one from the government ever asked me for my ideas.
By reading Noesner's book and watching the series, I came to understand it was essentially an operational conflict between Noesner and the negotiation unit and the tactical unit of the FBI and the onsite commander. If only Noesner had been in charge. But he was relieved and the tanks with gas were sent in. The rest is history as the compound went up in flames and so many people needlessly died. This is one of the reasons I wanted to reach out to Gary Noesner. I want the public who have bought into the anti-government, deep state conspiracy mindset to understand that there are ethical people with integrity who are real patriots and who care about the rule of law.
For Gary Noesner, it was a very difficult experience as explained in an article by Kseniya Kirillova (whom I just interviewed) entitled, "Former FBI negotiator talks about Waco and How It Became His Personal Tragedy".
In early 1993, the country's attention was riveted on a 77.8 acre ranch in McLennan County, near Waco, Texas where federal agents of the Bureau of Alcohol, Tobacco and Firearms (ATF) and the Federal Bureau of Investigation (FBI) had more than 100 members of a religious cult known as the Branch Davidians surrounded.

Over the next 51 days, negotiators, led by FBI Agent Gary Noesner, former Chief of the FBI's Crisis Negotiation Unit, Critical Incident Response Group, tried in vain to talk cult leader David Koresh and his followers into surrendering the compound and turning themselves over to federal agents.  Tragically, negotiations were unsuccessful and tensions between the two sides escalated, eventually culminating in an assault by agents on the compound and a fire that claimed the lives of those inside.

Gary Noesner became known to a wide audience this year after the release of the "Waco" mini-series which was dedicated to the bloodiest siege in the history of the United States. This is a story of the standoff between members of the religious cult "Branch Davidians" and federal forces, lasting from February 28 till April 19, 1993. During those dramatic events, 82 members of the sect, including 20 children, died, along with four ATF agents.
During our video chat, Gary shared details about his personal experience as chief negotiator at the cult compound outside Waco. He talked about David Koresh and the difficult decision-making that was involved in the stand-off. He talked about the human drama of both the people inside, being human beings, and what they went through, along with the challenges they had in the FBI. He acknowledges that everyone is human and therefore has faults. This is one of the reasons he wrote his book and worked on the docu-series. He correctly pointed out to me that it was Hollywood drama and NOT a documentary,
Most cult leaders are brought up in an authoritarian household or were involved with other cults before they started theirs or, as in the case of Koresh, took over one. I lean to not thinking of him as just a cold, calculating con man. This made him not respond rationally to the threat of loss of life. Most cult leaders will begin to believe their own propaganda. Dying in the flames confirmed his apocalyptic belief system. For sure, he was a narcissist, a destructive cult leader.
The big question that people often ask is why were members drawn to follow him? And what could have been done to help them? It is important to get the message out in the law enforcement fields that people in cults are not just stupid, weak, looking to be controlled, or criminals. In fact, they may have made one bad decision which led to them being in a mind-control trap, getting pulled in deeper and deeper, like quicksand.
During our almost-one-hour discussion, we go on to talk about anti-government conspiracies, 9/11 truthers, and Trump. Gary's biggest criticism of Trump is how he purposefully divides, which is very harmful. It is not simply a left-to-right issue but rather a one of integrity and honesty. We have to be careful and find a way to move away from polarized ideological bubbles to have thoughtful discussions with each other. It is important to look at what people stand for, especially those running for office. Gary Noesner says that it boils down to four key personality attributes: honesty, integrity, humility, and compassion. Character matters!
Plus, it is important to remember that there are good people in the government that want to do good for our country. It is not all-or-nothing or black-and-white. Gary is level-headed and person-centered, not heavily militaristic. I loved it when he said that if it comes to evaluating some government action, and you can choose to look at it as either incompetence or malevolence, always choose incompetence as your default. This is from experience, he says.
We can learn much from him. We can acknowledge our faults and share lessons learned so as to avoid repeating mistakes. In order to expect any change, we must understand what happened. Sadly, there was a loss of life during the Waco tragedy but by talking about it and learning more about the unethical influence cult leaders have on members, we can try to prevent this type of tragedy from happening in the future.
NOTE: I reached out to David Thibodeau and let him know I was planning to do this blog and asked to speak with him and while it initially seemed like he was open to doing so, it was not convenient for him to do so. I leave the invitation open to hearing his point of view. On 7/16/20, Gary emailed me, "I have read all three of the books you sent me and found them all insightful.  I finished The Cult of Trump and loved it.   It's a great book that should be read by everyone in these troubled political times."
Video Interview
Trailer for WACO Series
WACO is a 6-part series from Paramount Network based on the true story that shocked the world of religious leader David Koresh's Branch Davidian compound in Waco, Texas in 1993. WACO features a star studded cast that includes Michael Shannon, Melissa Benoist, Taylor Kitsch, John Leguizamo.
The Waco Series is Now Available On-Demand through Amazon Prime Video. To view the series, visit the Amazon Prime Video page here.
Additional Blogs:
Additional Videos: