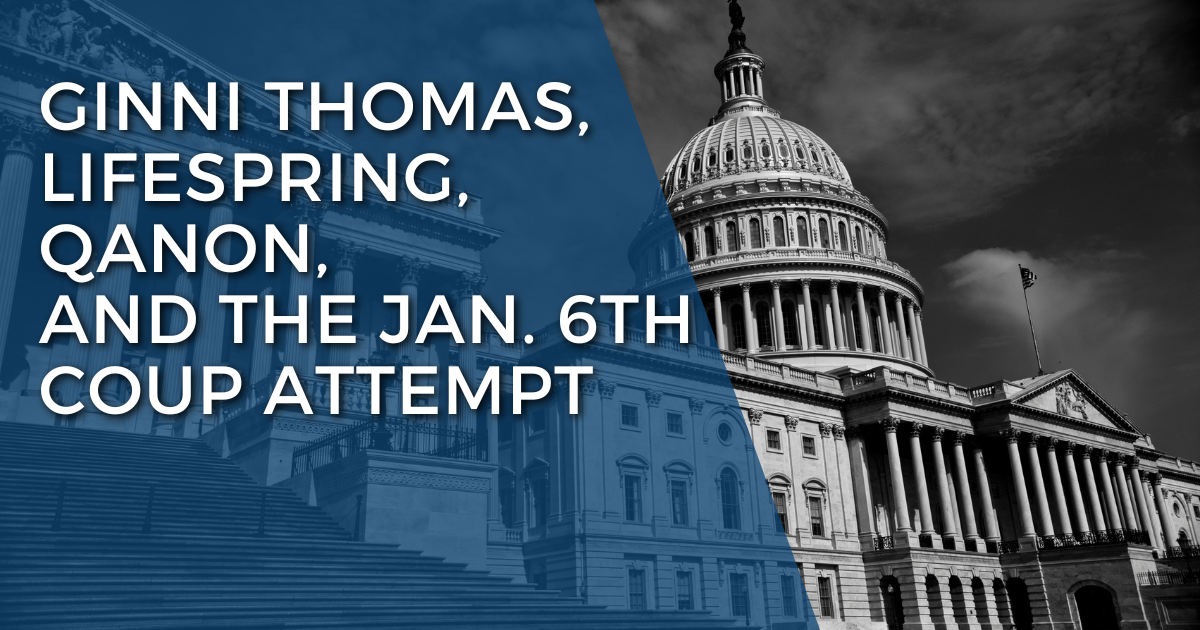 On April 2nd,  I shared a special podcast on the Influence Continuum, responding to a profound interest in Ginni Thomas and her husband, Supreme Court Justice Clarence Thomas.
To explain the context, in late March, numerous news sources reported that Ginni Thomas would be asked to appear before the Congressional Panel investigating the January 6th, 2021, assault on the U.S. Capitol. This decision was based on numerous text messages Mrs. Thomas sent to Mark Meadows, Trump's Chief of Staff, urging him to pursue plans to overturn the 2020 presidential election.
When this news broke, a colleague reminded me that I had helped facilitate an ex-member support group meeting in Kansas in 1986. Video I had from 1986 in which Ginni Lamp (Thomas) talked about her experience as a member of the Large Group Awareness Training cult, Lifespring. It was the first time I had met her. Ginni had Washington D.C. experience and had become a vocal advocate for educating people including members of Congress about the dangers of cults. That year was the 10th anniversary of the Jim Jones-directed mass murder/ and assassination of Congressman Leo Ryan at Jonestown. It was also 12 years after I had been deprogrammed from the Moonies. Ginni and I shared the same goal of educating national leaders about the dangers of cults.
I posted the entire video on Youtube, and a minute-and-a-half clip on my social media sites. My Twitter thread on the video went viral, with 6 million impressions and 2 million views of the video. The public wanted to know if her current frame of mind had roots in her cult experience. How could someone who spoke so passionately about her experience in leaving a cult, work for years to expose destructive cults, and later become so enmeshed in the QAnon conspiracy theory that the 2020 election was stolen? Text messages from Thomas to Mark Meadows, reference the stolen-election conspiracy theory, which for many was the main reason for the January 6 assault on the Capitol.
Lifespring – Large Group Awareness Training (LGAT)
John Hanley, Sr. founded Lifespring in 1974. Hanley had previously worked for William Penn Patrick's multi-level marketing (MLM) company, Holiday Magic. He and other founders worked for Mind Dynamics with Werner Erhard, who later founded est (Erhard seminars training). Hanley had also been found guilty of mail fraud in 1969 and was sued by the Wisconsin Justice Department for running a pyramid scheme.
LGATs provide their training in large group settings. The people who run the groups have no background in mental health. Potential participants are promised enlightenment and resolution of their deepest fears. Techniques used during the training include hypnosis, confrontational behavior, and rigid control over the environment. Access to bathrooms, breaks, food, and sleep were tightly controlled.
All these techniques are used by authoritarian cults to break a person down and infuse a new, cult identity. This process involves control over behavior, information, thoughts, and emotions (BITE). Using the BITE Model organizations can be ranked along a continuum of influence, ranging from constructive/healthy to destructive/unhealthy.
Lifespring was the subject of many lawsuits, six of them resulting from the death of participants. One case involved a man who was unable to swim. He was persuaded to jump into a river to overcome his fear. He drowned. Lifespring had made Hanley a very wealthy man. The lawsuits were often settled out of court, despite Lifespring denying any responsibility.
Leaving a Cult – The Need for Skilled "Deprogramming"
People need to undergo significant internal processing in order to heal. And integral to healing is understanding and hopefully reconnecting tone's authentic self. Without this, some ex-members can be susceptible to recruitment by another cult. Realizing you need to leave a cult does not make one, or immunize one from other mind-control cults. The former cult self, in some cases, might still crave the security of authoritarian influence.
In my opinion, people exiting cults are very susceptible to influence, especially from a person perceived to be an authority figure. During this very vulnerable time, the support of trained and highly skilled mental health professionals is critical.
Kevin Garvey is cited as the primary interventionist who helped Ginni to realize the harm of groups like Lifespring. Garvey described his encounter with Thomas as an 8-hour meeting at Hamburger Hamlet in Georgetown on a Sunday afternoon. He was satisfied that Thomas would be all right. (As quoted in the Washington Post 9/10/91 article, The Nominee's Soul Mate.)
Conservative Ideas Taken to Extremes – Overturn the 2020 Election
Thomas grew up in Omaha, Nebraska, the youngest of four children in a conservative Republican family. Her mother, Marjorie Lamp, served on county and state Republican central committees, was a delegate to national conventions, and ran for the state legislature. Ginni attended Jesuit-run Creighton University in Omaha and attended Creighton's law school in the early 1980s.
Ginni Lamp married Clarence Thomas in 1987 (one year after the video). Ginni helped set up congressional briefings, and I received an audio recording of such a panel on which I spoke in 1988. My last memory of being with Ginni Thomas was when she introduced me to Clarence Thomas at a cult awareness meeting in 1992. I remember her introducing me and the justice and I shook hands.
Thomas and her husband, Justice Thomas, went on to actively work for a much more conservative government for many years. They support the efforts of the Council for National Policy (CNP). CNP is the focus of a book by Anne Nelson called The Shadow Network. Gary Jarmin, a long-term Moonie, who distanced himself publicly from Moon was apparently involved from the beginning. Jarmin at some point claimed to have left the Moon cult, but I have my doubts since Jarmin has never spoken out publicly admitting it was a destructive cult. We do know that James Whelan was deeply involved in CNP and was hired to be the founding editor of Moon's DC newspaper, The Washington Times. Whelan quit in 1991 and held a press conference saying he was leaving due to the unethical influence of the paper. The CNP was hailed by President Ronald Reagan as seeking the "return of righteousness, justice, and truth" to America. The CNP issued the call to Keep President Donald J. Trump in power.
The conflict of interest presented by Ginni Thomas's expressed support for the attempted insurrection on January 6, 2021, and her husband's position as a Supreme Court Justice of the United States is of great concern. In January 2022, the Supreme Court rejected Trump's request to stop the congressional committee investigating January 6 from accessing his records. Justice Thomas was the only dissenting vote.
Whatever the balance of possible unresolved issues from her cult experience along with long-held conservative ideals, Ginni Thomas provides an example of how undue influence combined with an undemocratic, authoritarian worldview can lead to disastrous results.
Responding to the Threat of Authoritarianism
We need to approach this threat as a public health issue, engaging legislators, mental health, and legal professionals, as well as the public. Inoculation about social influence should be in the curriculum of all schools. I recommend Stanford professor emeritus and former President of the American Psychological Association, Philip Zimbardo's Heroic Imagination Project. Long-term exit counseling for cult members should be easily available. Public education should be provided at all levels, including at the federal level, to enable professionals in law and mental health, as well as individuals, to recognize and resist attempts to unduly influence thinking and behavior.
The seriousness of the threat posed by authoritarian, right-wing conservative infiltration of the highest levels of government cannot be ignored. The rapidly increasing worldwide trend toward authoritarianism can easily become a death sentence for democracy and human rights, perhaps even for the existence of the planet itself.
Further Information:
Combating Cult Mind Control – Freedom of Mind Resource Center
The Influence Continuum with Dr. Steven Hassan: Ginni Thomas's Cultic Past on Apple Podcasts
WATCH: Cult Expert Explains How Ginni Thomas has Been 'Radicalized' (hillreporter.com)
Does Ginni Thomas' Cult Past Explain Her Interest in QAnon and 2020 Election Conspiracy Theories? | Inside Edition
1986 VIDEO OF GINNI THOMAS JUST RELEASED by Cult Expert Steven Hassan
Ginni Thomas Discusses Struggles After Leaving 'Cult' in Resurfaced Video
The Long Crusade of Clarence and Ginni Thomas – The New York Times (nytimes.com)
Video Shows Ginni Thomas Discussing Her Departure From Lifespring Cult (businessinsider.com)
Opus Dei's Influence on the U.S. Judiciary
Associate Justice Clarence Thomas | Commencement Address | Christendom College – YouTube
'Fearless' Justice Clarence Thomas Walks 25 Years in Footsteps of St. Thomas More
Opus Dei members gather for St. Josemaría Escrivá anniversary
Washington's Quiet Club (newsweek.com)
What is a Cooperator? – Opus Dei
MSNBC interview with Ari Melber