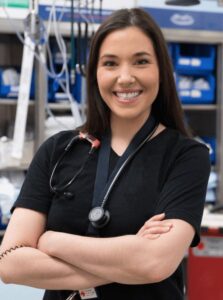 Danielle Bastien, Henry Ford Health System
Trafficking is a Large-Scale Issue of Undue Influence
Meet Emergency Room nurse, Danielle Jordan Bastein. Kudos to her! Danielle has pioneered the development of a new protocol to more systematically identify warning factors for the ER that a patient might be a trafficking victim. Trafficking victims almost always suffer a myriad of health problems and it is in the ER, that an important opportunity to offer them help exists.  This crucial screening protocol would train nurses and other health care workers to ask the right questions and do the right assessment to flag a potential victim. I strongly suggest watching the video in the link above to understand more about this new system, which I believe should be used in every Emergency Room in the world.
People have intervened as good Samaritans sometimes when they see a young person, usually a girl, who is dressed provocatively, with an older man, and "picture" does not fit. However intervening with a pimp is not advised, rather summoning a law enforcement person is the correct action. It can be very dangerous to the young person as well as yourself.
February 3rd, 2019 was Super Bowl VIII, where fans gathered in Atlanta, GA for sportsmanship and competition. However, what many do not know is that there is usually a large increase in sex trafficking during large sporting events, including the Super Bowl. And Atlanta is one of the largest hubs of sex trafficking nationwide.  This past weekend was no exception, with a large-scale sting resulting in dozens of arrests. Atlanta was also the place where the famous musician R. Kelly is alleged to have committed sexual abuse and exploitation of an underage girl as well as other women in a personality "cult."  A new documentary that sheds light on these has generated a lot of media and outrage. Lady Gaga apologized and withdrew a collaboration song Do What U Want she had done with R. Kelly. Good for her!
Carissa Phelps shares her inspiring true story about finding the courage to seek healing and finding the strength to blaze a trail for other survivors in her book and through her company Runaway Girl. Carissa had the vision to understand the significance of understanding pimp and trafficker mind control used to recruit and indoctrinate people into commercial slavery. With Carissa, Rachel Thomas and D'Lita Miller, we co-developed a curriculum (much credit goes to Rachel Thomas) to help survivors understand mind control called Ending The Game. We also have a trafficking video playlist on our Youtube channel. I even blogged about this trafficking just last month, Human Trafficking Awareness Month. Human trafficking is a variation of undue influence. Trafficking rings function as commercial cults, with pimps and traffickers as their cult leaders. They use the same basic methods (outlined in the BITE Model) to recruit, control, and exploit victims.
"Human Trafficking" refers to both labor trafficking and sex trafficking. Pimps and traffickers often beat, rape, torture, and threaten their victims to ensure compliance. They take away passports and other documents needed to travel freely. They often give victims a new name, new identity, new clothing, even a new language. They often initiate drug addiction in order to keep their victims dependent on them for a steady supply and to numb them to the pain of their horrific circumstances.
Regarding the rhetoric coming from the White House concerning traffickers and the call to build a Wall, Lisa Goldblatt Grace of My Life My Choice (I am glad to have given a four-hour training workshop for them) explains that while news reports have recently circulated about a steady flow of kidnapped trafficking victims being brought over from the U.S.-Mexico border, this is simply not true. Trafficking victims from other countries are more frequently brought to the U.S. through legal means, coercion and seduction are more frequent tactics used on trafficking victims in the U.S., and two-thirds of trafficking victims in the U.S. are U.S. citizens.
Learn to Recognize Trafficked Girls
Shared Hope International has created the following lists to recognize characteristics of pimps and signs of girls being trafficked:
Pimps/traffickers often exhibit the following behaviors or characteristics:

Jealous, controlling and violent
Significantly older than female companions
Promise things that seem too good to be true
Encourage victims to engage in illegal activities to achieve their goals and dreams
Buys expensive gifts or owns expensive items
Is vague about his/her profession
Pushy or demanding about sex
Encourages inappropriate sexual behavior
Makes the victim feel responsible for his/her financial stability. Very open about financial matters.

Warning signs that an individual is being trafficked:

Signs of physical abuse such as burn marks, bruises or cuts
Unexplained absences from class
Less appropriately dressed than before
Sexualized behavior
Overly tired in class
Withdrawn, depressed, distracted or checked out
Brags about making or having lots of money
Displays expensive clothes, accessories or shoes
New tattoo (tattoos are often used by pimps as a way to brand victims. Tattoos of a name, symbol of money or barcode could indicate trafficking)
Older boyfriend or new friends with a different lifestyle
Talks about wild parties or invites other students to attend parties
Shows signs of gang affiliation? (ie: a preference for specific colors, notebook doodles of gang symbols, etc.)
How Can You Help?
If you suspect sex trafficking, contact one of these hotlines:
Remember, reporting suspicious activity can save lives!
Learn More
#cutthroughthenoise
BBC News released an episode of their Facebook Watch series, #CutThroughTheNoise, dealing with the Super Bowl and trafficking. You can watch it here.
For more information, please check out the following resources:
Ready. Inspire. Act. RIA House
Video Blog