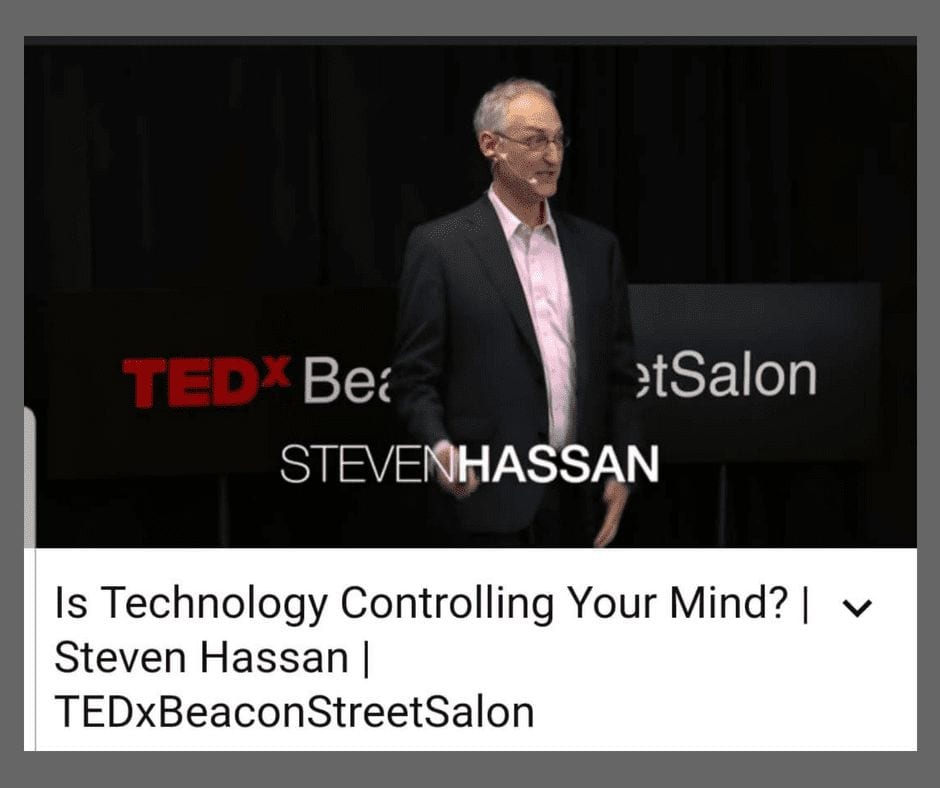 I recently gave my first TEDx talk on August 1, 2018. (update, it was added to the TED platform the end of November 2019). So exciting!
I decided to give this blog the funny title to make a point. There are, in fact, many definitions of the word "cult." Most of these have a strongly negative association. However, I wanted to try to help people expand their minds when they hear the word cult and not assume it is just a bad involvement or group. In fact, the word is the root of the word culture. For many people, who are emphatically involved with groups and associations of all types with wide interest, that is not simply religious or spiritual. For those who are familiar with my work, they know that I use the Influence Continuum to help distinguish between healthy, positive people and groups and destructive mind control people and groups. High intensity and intense commitment to a person or a group or an idea can be quite healthy and important. However, in my opinion, there must be freedom of mind. When people have informed consent, are free to read and associate, follow their conscience and are free to leave without penalty, being intensely involved with a community can be a very positive thing.
Interestingly, this point came up before for me in 2004 when Leander Kahney called my office and asked me for an interview. I asked him, "what is the topic area?" He told me his editor told me to interview me for a book he was writing about computers. When I asked him for the title, he replied, "The Cult of Mac." I laughed and told him I would do the interview but I first needed to disclose that I have only used Apple products since 1982 and that I owned multiple computers, iPhones, iPads, iPods. So, I was included in his book on page 256 as a member of the Mac cult!
At the time, I was totally unaware of how difficult a person Steve Jobs was as a boss. Nor was I able to see into the future to 2018. Today, technology has been engineered with so much sophistication to manipulate and control people to give their attention, money and their personal information over to technology platforms. As research is being done by reputable public health officials, it is becoming clear that some major policy changes need to be implemented quickly. In the meantime, parents and citizens are best to educate themselves, take control of their private data, and regulate their involvement with technology. The theme of my TEDx talk is that only you should control your mind!
This talk was sponsored by TEDxBeaconStreet.   There are hundreds of Beacon Streets throughout New England and I believe the name was chosen because a beacon is a light which gives direction and orientation. Ideas in Action is the non-profit company which runs TEDxBeaconStreet. It was founded by John Werner and Caty Byerly Rezendes.
John Werner is truly a force and one of the most visionary, energized networkers I have ever had the pleasure to meet. He is a talented photographer, educator, futurist, entrepreneur, and family man. I recently met Caty at an ideation meeting, where people pitch their ideas for a future talk and where people scheduled to do a talk get to rehearse with a live audience. The goal is to create a vibrant community which brings innovators to the fore and gives them exposure to a much wider network. Indeed, Ideas in Action.
When Bernie, my friend from Temple, emailed me and asked me if I wanted to do a TEDx talk, my immediate answer was an emphatic "yes!" I love watching and listening to TED talks and the TEDx franchise is a worldwide extension of that media platform. I am told that TED and TEDx talks form the third largest media franchise in the world. I listen to several talks every week and find them inspiring as well as educational. In this troubled world, it gives me hope and energy to connect with so many other bright, talented, creative people who want to help others.
Emerging Technology was the theme TEDxBeaconStreet salon at MIT  in Kendall Square, Cambridge. Attorney and business consultant Robert Chmielinski and Medical Doctor and Entrepreneur Eleanor Herriman were very helpful in coaching me. Eleanor especially helped me and is a whiz with powerpoint slides. Idea catalysts or coaches are an integral part of preparing for a TEDx talk.   For the evening of my talk, I was scheduled to be the last of twenty-two speakers. It was very challenging for me because, due to unfortunate delays, my 8:30 talk did not start until after 9 pm. These days I go to sleep pretty early and wake up early. However, please take a look and let me know what you think. If you like it, please share it widely. I appreciate your support.
At the end of my talk, I tongue-in-cheek said that I was happily a new member of the cult of TEDx, hence the title of this blog. I hope to have the opportunity to give more talks in the future as I have so much more to share.