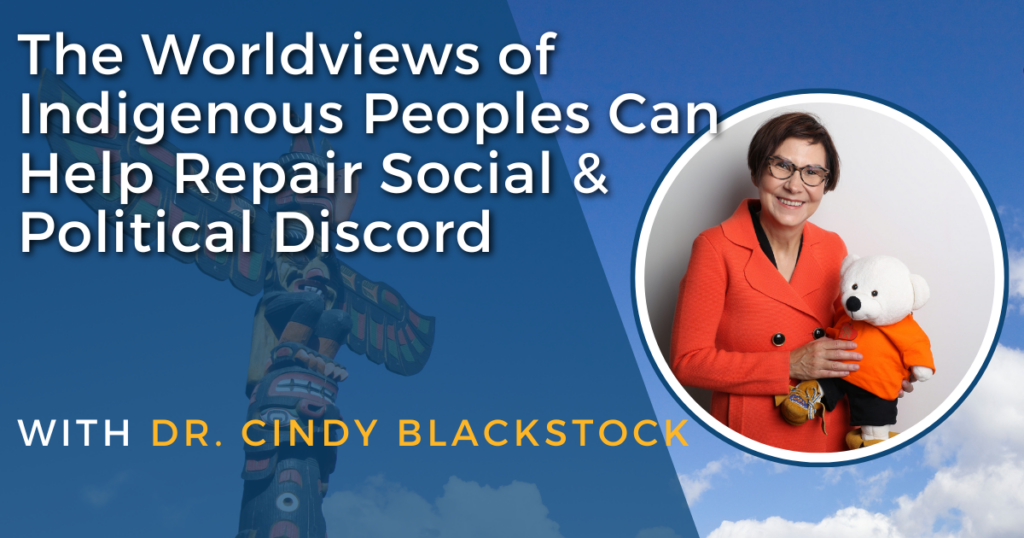 Last October, I did an interview and blog with Dr. Cindy Blackstock to discuss Indigenous People's Day (no longer Columbus Day). I recently interviewed her again for my new podcast, The Influence Continuum. We had an extraordinarily rich and stimulating discussion that included the truck convoy's presumable protest against COVID vaccination and mask mandates in Canada. The takeover of downtown Ottawa was another example of how colonialism mirrors the tactics of cult recruitment and control. Most importantly, Dr. Blackstock explained how she believes the worldviews of Indigenous peoples can play a role in repairing the deep fractures in our social and political life.
Blackstock is a member of the Gitxsan First Nation, a professor of Social Work at McGill University, and the Executive Director of the First Nations Child and Family Caring Society. She has worked tirelessly for more than three decades in child protection and Indigenous children's rights. Her research focuses on Indigenous theory and identifying and remediating the structural inequalities affecting First Nation children, youth, and families. The Nobel Women's Initiative, the Aboriginal Achievement Foundation, and Frontline Defenders have all recognized her promotion of culturally based and evidence-informed solutions. Blackstock has authored more than 50 publications.
"Movement Hijacking:" When One Political Issue is Used as a Disguise
Cindy Blackstock had a front-row seat during the trucker protests in Canada. She lives and works in downtown Ottawa, the epicenter of the action. Frustration and anger over masking and other restrictions that arose due to the COVID pandemic were the initial reason for the demonstrations. However, Blackstock saw Nazi flags and other anti-Semitic and white supremacist signs and symbols and the weaponizing of words such as "freedom" and "truth." Authoritarian thinking is supported by ignoring scientific facts and distorting the truth. Weaponizing words stimulates deeper fears. Restrictions such as masks and social distancing are loudly promoted as attempts to "take away your freedom." There have even been outlandish claims promoted on social media claiming that vaccines containing tiny robots that will alter human DNA!
Conflicting Worldviews: What Thinking Supports True Freedom?
Blackstock's description of the "bad actors" moving into the trucker protests and using the momentum for their own purposes reminded me of the work of Dave Troy, mainly as he explains the history behind the January 6, 2021, attack on the U.S. Capitol. The events of January 6 were not isolated or spontaneous. The attack on democracy continues today in the U.S. with the dismantling of laws protecting land, destroying checks and balance systems, and deliberately manipulating data and social media platforms. Around the world, authoritarian leaders continue and amplify their efforts to gain and maintain control. The invasion of Ukraine by Russia under the direction of Putin is but one glaring example.
All these efforts promote the exploitation of an authoritarian worldview aimed at causing confusion, disruption, and distrust so a takeover can be affected.
One of the most damaging characteristics of our society is a lack of humility and perspective about our unique place in the world. The authoritarian, colonizing worldview is based on "us versus them." Justifying theft of land, destruction of culture, and outright murder of other human beings depends on seeing them as not human and their culture as inferior or, in some cases, evil. Abraham Maslow is known for his "hierarchy of needs." I learned that he got this idea for Indigenous wisdom, but he left out community, which is at the base. Omitting community defines growth and development in a self-focused, versus community-focused way.
Blackstock describes how the Indigenous worldview supports a more equitable, just, and healthy world. In this view, the world is an organic whole. Humans view themselves as connected—to the land, animals, and other humans. Respect for ancestors and future generations includes looking back and forward for seven generations. Decisions are based on "us" to provide for human needs and the needs of the earth and its inhabitants. Because we are part of the earth, Blackstock says, if we decide to throw litter on the ground, we are throwing litter on ourselves and our children and grandchildren.
A free, democratic society depends on healthy, pro-social adults who can consider different points of view and identify what does not make sense and when they are not thinking carefully. Maintaining true freedom depends on a worldview that is inclusive and connected.
What Needs to be Done?
Blackstock says we all need to realign and recalibrate based on wisdom. We need to start asking ourselves some tough questions and making courageous decisions about our personal and communal choices. As individuals and as a community, all of us need to liberate ourselves from patterns of the past and move towards respect and reconciliation.
We need to make beneficial use of technology but still consider what we can manage from a neurological or biological perspective.
We must control the dangerous aspects of social media, which provide a platform for trolling, where bad actors can agitate and influence free of any accountability.
Protection of vital personal information on the internet is also a critical need.
A greater understanding of the emotional effects of our relentless, 24/7 real-time access to world events is necessary.
What controls or regulations do we need to protect individual information?
We should approach these critical needs as a public health concern that requires "preventive inoculation." An effective intervention will require multi-level responses involving media, politicians, business leaders, etc.
I asked Dr. Blackstock if she had one most critical piece of advice that would contribute to healing the divisions that we are experiencing in countries all over the world. She says that learning to listen to each other effectively is one of the essential skills. Listening is not the opposite of talking. Listening is the opposite of waiting to talk. Reconciliation, healing of past divisions, and building a healthy future for all humanity begin with truly hearing everyone's voice. We need to be humble. Survival of the earth that is our only home depends on us all.
.
Further Information:
Cindy Blackstock, Professor | School of Social Work – McGill University
The Caring Society – Staff Information | The Caring Society (fncaringsociety.com)
Cindy Blackstock: Indigenous children are worth fighting for – Dal News – Dalhousie University
The Caring Society (fncaringsociety.com)
Dawnland – A documentary about stolen children.
Why Are Truckers Protesting in Canada? – The New York Times (nytimes.com)