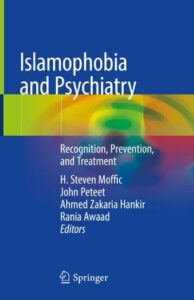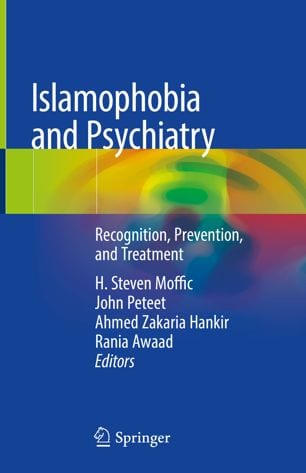 Introduction
The book begins by covering the general and clinical challenges that are unique to Muslims, drawing from an internationally, ethnically, and intergenerationally diverse pool of experts.  The text covers not only how psychiatrists and other clinicians can intervene successfully with patients, but how we as clinicians can have a role in addressing other societally connected mental health challenges arising from Islamophobia. The text addresses three related but distinct areas of interest: Islamophobia as a destructive force, Islam as a religion that is threatened by stigma and misinformation, and the novel intersection of these forces with the field of psychiatry.
Islamophobia and Psychiatry is a vital resource for all clinicians and clinicians in training who may encounter patients struggling with these issues, including adult and child psychiatrists, psychologists, primary care physicians, counselors, social workers, and others.
Editors and affiliations
My sincere apology for our video interview which did not capture accurately the full story. This has the gist of the evolution. Rao Gogineni is the psychiatrist behind the scenes who inspired all the interfaith Symposia like this one, including one of forgiveness. This textbook, 'Islamophobia and Psychiatry: Recognition, Prevention and Treatment' was inspired by a Symposium given at the annual meeting of the American Psychiatric Association in May 2017. Led by Roomana Sheikh, M.D., "Islamophobia: Social, Religious and Clinical Perspectives" was well attended, and stimulated considerable discussion.
Following this session, Dr. Moffic was contacted by Nadina Persaud – Editor of Clinical Medicine at Springer – about the possibility of an edited book on the topic. Dr. Moffic, in addition to editing other psychiatric books, had focused on cultural psychiatry over his 45-year career, including establishing the first model curriculum on this subject for psychiatric residents in training. Following that, another of the symposium's participants, John Peteet, M.D., who has had a major interest in the importance of religion and spirituality in the practice of psychiatry showed interest, and both then decided to test the feasibility of the project through collegial contacts. Fortunately, not only did there seem to be enough potential chapter authors, but serendipity and contacts soon led to two other well-known psychiatrists, co-editors Ahmed Zakaria Hankir, M.D., and Rania Awaad, M.D., each a major spokesperson on Islamophobia and Psychiatry in their respective countries, Great Britain and the United States. That left us with four co-editors – spearheaded by Dr. Moffic – representing a spectrum of age, experience, religion, gender, and countries of professional work, united in a passionate concern for the psychological and societal harm of Islamophobia.
Table of Contents
General Issues
Specific Clinical Challenges
Social Psychiatric Implications