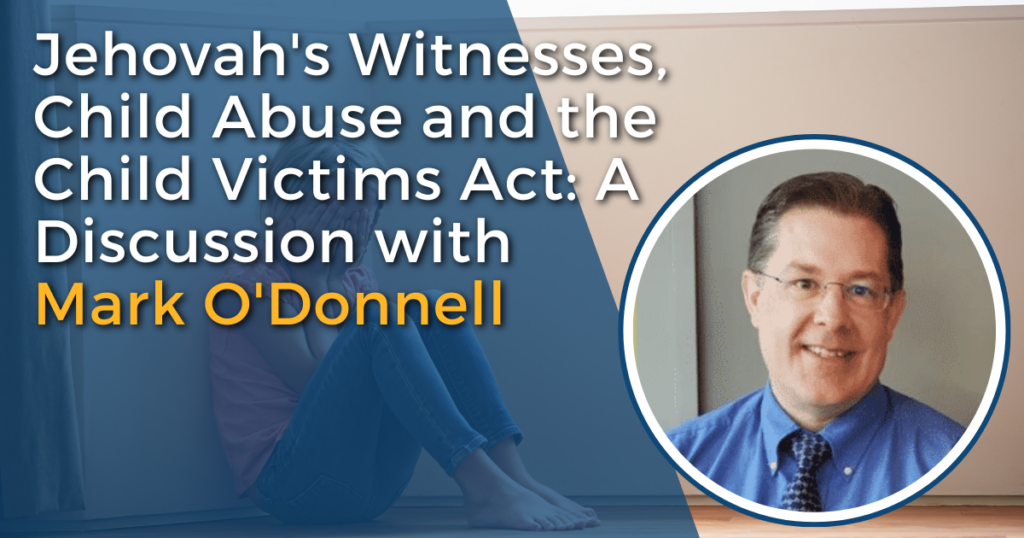 In the last year, we have seen a major change in how sexual and child abuse is viewed and handled by authorities. In the #MeToo and #ChurchToo era, more courageous survivors are safely telling their stories. Even cult leaders are being held accountable for abuses they inflicted. For example, recently NXIVM leader Keith Raniere was convicted. Other harmful groups are also being sued such as Scientology. Attorney Marci Hamilton, founder of the nonprofit think tank ChildUSA, is accomplishing many victories. I previously published a blog and video of her talk about my forensic think tank at The Program in Psychiatry and the Law, at the Massachusetts Mental Health Center, a teaching hospital of the Harvard Medical School. Marci came and spoke about her quest to abolish statute of limitations for child sexual abuse. She is now one of seven victims' rights attorneys representing a former Scientologist who suffered great harm as a child raised in that organization. Their goal is to hold the church "accountable for a history of extensive abuse." And they have set up a website to help gather additional allegations.
In January, Governor Cuomo signed and New York State passed the Child Victims Act:
The Child Victims Act will allow child victims to seek prosecution against their abuser until the age of 55 in civil cases, a significant increase from the previous limit of age 23. For criminal cases, victims can seek prosecution until they turn 28. The bill also includes a one-year window during which victims of any age or time limit can come forward to prosecute.
This one-year window has made it possible for any victims to come forward and seek justice. And for the Jehovah's Witnesses, since their headquarters are located in New York, this means victims from any state can come forward. (If you would like to see help from a qualified lawyer, click here.)
Discussion with Mark O'Donnell
This week, I had the privilege of once again speaking with Mark O'Donnell, a former Jehovah's Witness turned researcher, writer, and activist. We previously discussed the Montana Case and a Watchtower Tragedy. This time, Mark gives an update on the child sexual abuse (CSA) cases within the Jehovah's Witnesses, along with discussing his recent trip to Australia where he met up with a large group of former members.
One big case he has been investigating and reporting on is that of former elder, Rod Watkins of Arkansas. It is possible that he abused dozens of victims by misusing his position of trust. He has been arrested on four counts and a criminal trial is set for later this year. How the parents entrusted their children to this man, is very similar to that of Michael Jackson and the alleged abuse suffered by multiple victims.
Mark was recently in Australia for a series of interviews and meetups with some former Jehovah's Witnesses, including Paul Grundy, founder of jwfacts.com which is a great website for individuals looking for fact-based information, not commentary. Lloyd Evans (John Cedars) of JW Survey gave an encouraging presentation. And Mark along with the documentary team for the Truth About the Truth (TTATT) got to interview a couple of very important people, including two important counsels that had a hand in the Australia Royal Commission which conducted a thorough investigation into institutional responses to child abuse, including that of the Jehovah's Witnesses. And Mark also shared how the UK is going to have a child abuse inquiry into all religious organizations, including the JWs.
Mark and I talk about how difficult it is for people that leave to realize and admit they were in a cult but by learning about mind control, including the BITE model, it can help lessen the stigma.
We continue on by discussing how child protection laws are being put into place but some groups, like the Catholics and Jehovah's Witnesses, are hiding behind clergy privilege and not reporting. Most JW elders do not report, even though they are state-mandated reporters. And this is why it is so important for activists to get involved. By scanning and sharing documents, including internal guidelines, there is a sense of transparency around their behavior. With these ongoing and upcoming lawsuits, the Watchtower may be forced to comply. (For a comprehensive collection of publications and letters, see AvoidJW.)
And most importantly, Mark shares details about the earlier-mentioned change in the statute of limitations for New York and child abuse. This new law allows victims from all fifty states to get representation because Watchtower, the defendant, is headquartered in New York. This one-year window-into-justice starts in August and will allow victims to come forward, that previously could not due to expired statute of limitations. By visiting this website, www.jehovahswitnesssexabuselawyers.com, a victim can fill out an intake form and then speak with an attorney to see if there is enough evidence and documentation to prove elders or other Watchtower leaders, knew about the abuse but did not report. The more survivors that come forward will help hold Watchtower accountable and, hopefully, force a change. In today's climate, people are seeking justice and transparency for all victims and we need to do our part, however, we can. Please watch the interview as many other interesting points came up. It is always a pleasure speaking with him and will do it again in the near future.
Video Discussion