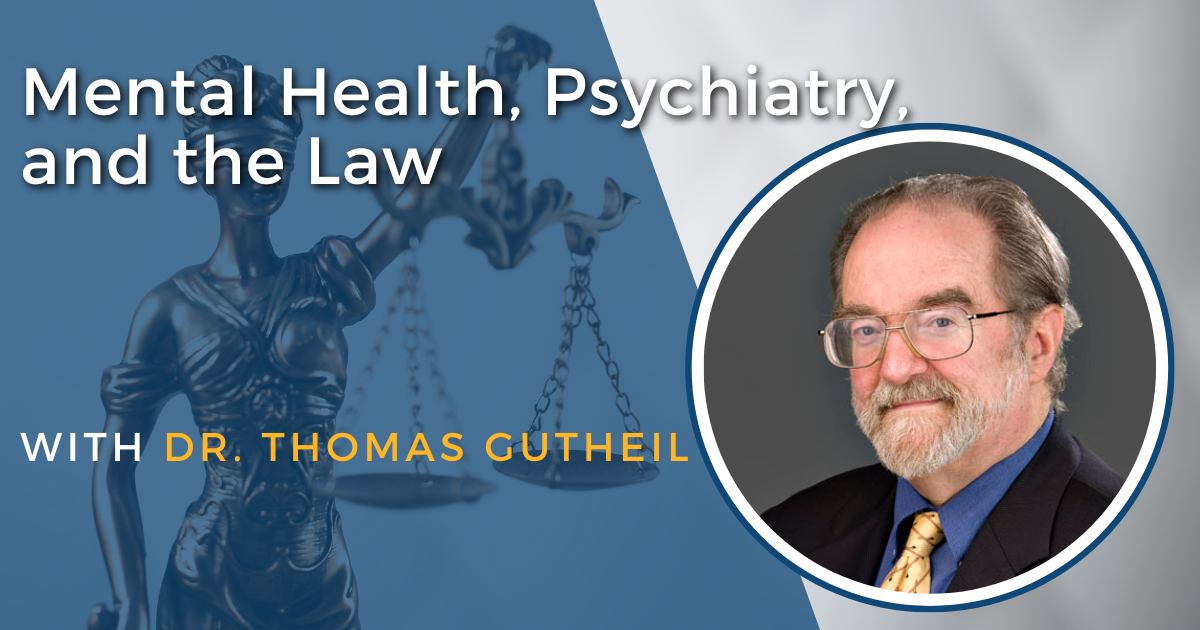 Dr. Thomas Gutheil is a Professor of Psychiatry and co-founder of the Program in Psychiatry and the Law (PIPATL) at Harvard University, and the first professor of psychiatry in the history of Harvard to be board certified in both clinical and forensic psychiatry. Gutheil is one of the most prominent voices in defining the relationship between psychiatry and the law. Gutheil has served as President of the American Academy of Psychiatry and Law, and the International Academy of Law and Mental Health, where he is currently a member of the Board. I have been able to present my work in helping people free themselves from authoritarian cults at meetings of both these organizations. It will be an honor to present at future conferences and congresses.  
I had the great fortune to be introduced to Gutheil by Dr. Richard Parker. When I contacted Dr. Gutheil, he kindly invited me to present at PIPATL and later invited me to attend meetings which I have been doing regularly. He has served as a valued mentor and colleague ever since. Gutheil was my second author, along with Mansi Shah for a three-part article for the Psychiatric Times, "Responding to Authoritarian Cults and Extreme Exploitations: A New Framework to Evaluate Undue Influence."  
Gutheil is an internationally known forensic psychiatrist and author of over 300 publications. He has served as a consultant or expert witness in more than 40 states. Gutheil is an expert in the relationship between psychiatry and the law. He is the recipient of every major award in the forensic field. Dr. Gutheil has also received multiple teaching and writing awards and is the recipient of the 2008 Clifford Barger Lifetime Achievement Award in Mentoring.  
For over 40 years, Dr. Gutheil has been a pioneer in efforts to establish a clear understanding of undue influence as it applies to the legal system. Some areas of the law, particularly concerning the young and the elderly, do address the issue. But overall, very little improvement has occurred in the legal profession's understanding of undue influence.   
Psychiatry and the Law: The Issue of Personal Freedom of Choice
I asked Dr. Gutheil how he got interested in psychiatry. His father was a well-known psychoanalyst in New York City, who had trained with a psychoanalyst who himself was trained by Sigmund Freud. Dr. Gutheil did his psychiatry residency at Massachusetts Mental Health Center (MMHC), which was an unusual combination of a state hospital and a major Harvard teaching hospital. When Gutheil returned to the Center as an attending physician, a legal case, Rogers v. Okin, had been filed asserting the right of a patient to refuse treatment. Psychotropic medication, however, is critical to the ability of a patient to leave the hospital at some point. Gutheil remembers that he and his colleagues often commented that the courts had made it possible for patients "to be rotting with their rights on," meaning they were untreated but too sick to be discharged. Therefore, they were essentially "warehoused" in the hospital.   
After one of the patients at MMHC committed suicide, Gutheil's interest in psychiatry became focused on the forensic aspects. The anguish and rage he experienced centered on these questions: How could a well-staffed, highly sophisticated mental hospital fail to provide sufficient mental health treatment? What changes are needed to help alleviate this failure in treatment? Gutheil and one of his trainees began studying the phenomenon of treatment refusal. Their research appeared in a special section of the American Journal of Psychiatry in September 1980 titled "Life, Liberty and the Pursuit of Madness."  
Program in Psychiatry and the Law (PIPATL)
Sharing experience and knowledge between colleagues with differing opinions is critical in improving policies and procedures. PIPATL grew out of the spontaneous conversations that Dr. Gutheil and several colleagues at Harvard found so valuable. Many of their professional colleagues wanted to participate in their brainstorming sessions.   
Today PIPATL has grown to include more than 50 members, 20 of whom meet weekly. In the early days, presenters traveled to Massachusetts to present their research. The technology now available allows prominent researchers from all over the world to participate easily. PIPATL was one of the first formal think tanks and research units, serving as a model for other universities. 
Mentoring: What Makes it Successful?
I have been extremely fortunate to have been mentored by many incredible people over the years, including Dr. Gutheil. I asked him to share some of the qualities and approaches that are critical in a mentoring relationship. 
A mentor needs to recognize the power imbalance that is inherent in the relationship. The role of a mentor is to guide and encourage a mentee along their unique path. Mentoring is different from supervision, as it occurs over time, and the relationship needs to continually adapt to any new stage the mentee might reach. A mentor also needs to be careful not to cross the boundary between mentoring and therapy. Healthy boundaries are important.   
Someone looking for a mentor needs to have a basic understanding of the person they are considering. Be familiar with their research and publications, for example, before asking them, and be clear on what goals you are pursuing. Dr. Gutheil admits that beyond that, the mentoring relationship depends somewhat on "chemistry," and a sense of connection, or perhaps sometimes serendipity!  
"Do No Harm" Should Apply to Mental Health Treatment and the Legal System
To sum up our conversation, we identified the most critical needs in our society today. While there are certainly many, the following are of utmost importance.  
Mental health services should be ranked as equally important as general medical issues. Attention to mental health should receive adequate funding and increased accessibility. The principle of "do no harm" should apply to laws governing medical care as well as specifically to medical intervention.

 

All forms of treatment intervention should allow enough time for providers to see the person as a whole. The amount of time allowed by insurance to assess a person's needs is highly insufficient.

 

Science should not be a political issue or tool of manipulation. 

Increased understanding of undue influence and models such as those of

Scheflin

, is critical in the legal system. Identifying and resisting undue influence should be taught to the general public.
All of these interventions would go a long way toward preventing dangerous authoritarian attempts to overthrow our democratic way of life. 
Further Information: 
The Need to Educate Judges, Attorneys, Citizens, and Governments About Undue Influence – Freedom of Mind Resource Center 
My Week at the IALMH Congress – Freedom of Mind Resource Center 
Key Books by Dr. Gutheil: 
The Mental Health Professional in Court: A Survival Guide: 9781585624386: Medicine & Health Science Books @ Amazon.com 
The Psychiatrist as Expert Witness, Second Edition: 9781585623426: Medicine & Health Science Books @ Amazon.com 
Practical Approaches to Forensic Mental Health Testimony: 9780781772136: Medicine & Health Science Books @ Amazon.com