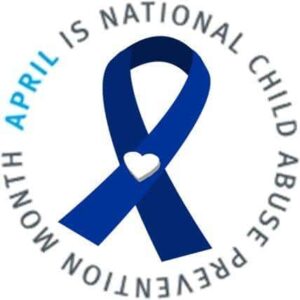 Since 1983, April has been designated as National Child Abuse Prevention Month. It "recognizes the importance of families and communities working together to prevent child abuse and neglect and promotes the social and emotional well-being of children and families. During the month of April and throughout the year, communities are encouraged to increase awareness and provide education and support to families through resources and strategies to prevent child abuse and neglect." (Child Welfare Information Gateway)
And, in 2019, it is needed just as much as ever! Too many children are still being hurt: physically, mentally and emotionally, as seen by recent national child abuse statistics.
National Child Abuse Statistics
(American Society for the Positive Care of Children)
74.9% of victims are neglected.
18.3% of victims are physically abused.
8.6% of victims are sexually abused.
7.1% of victims are psychologically maltreated.
Almost five children die every day from child abuse.
Almost 65,000 children are sexually abused.
More than 90% of juvenile sexual abuse victims know their perpetrator.
The welfare, physical and emotional wellbeing of children is of utmost importance. I would like to point out the statistic that 74.9% of children surveyed are being neglected. As a mental health professional who has done extensive training to help trauma victims, neglect is considered to be, in some powerful ways, much more destructive than being hit or verbally abused. In order to develop a healthy attachment and a secure sense of self, which is the basis for all identity development, children need mothers (and fathers) and others in their life to pay attention to them: to hold them, talk to them, sing to them, teach them, tell them that they are loved! If they do not receive this attention, they will struggle and will try to do their best to compensate and get by, but they are missing out on what they deserve to have received: healthy childhood development. Fortunately, there are now therapeutic treatment approaches that can teach adults healthy development and provide reparative re-parenting in order to help people feel healthy and whole.
As you may know, my work for over 40 years has been focused on helping people raised inside high-control groups, as well as, adults deceptively recruited. I am an advisory board member of the Child-Friendly Faith Project which wants religious groups to get children medical attention, protect them from predators and end corporal punishment. For those raised in cults, they are at a higher risk for physical, medical, sexual, emotional, and psychological harm. Sadly, many are being hurt by destructive groups which are proving to be an unsafe, abusive environment for young ones. (For more information, read "Children are Harmed by Destructive Cults" – Part One & Part Two.)
Freedom of religion should not include traumatizing and abusing children! No matter what religious texts say or religious leaders tell followers to do! 
Of great concern is how these groups operate. The abuse is often covered up and the victims are silenced. The undue influence experienced from a young age convinces kids and teens alike to suppress their feelings, conscience and natural desire to protect themselves and simply trust the group's authority. Often they do not speak up due to fear. Fear of being shamed. Fear of bringing reproach on the organization. Fear of being blamed. People must stop victim blaming! Fear of being kicked out and everyone they know shunning them. Many of these kids become homeless and get picked up by traffickers.
Elizabeth Smart
In 2002, at the age of 14, Elizabeth Smart was kidnapped from her home in Salt Lake City, Utah by Brian David Mitchell. She was held captive for nine months by Mitchell and his wife, Wanda Barzee. That night, after declaring that she was his wife, he began to rape and assault her, repeatedly. He indoctrinated her into his fanatical, religious belief system. As a Mormon, she had been taught that once a girl lost her virginity, she was "like chewed gum" and believed no man would want to marry her. After her rescue, Elizabeth has become a vocal advocate to help others and talked about this religious belief being a factor in her not believing she would be welcome home and be able to live a normal healthy life again. Fortunately, she has that now!
Similarly, many victims of CSA do not speak out or seek help because they are made to feel shame for the act, that they did something wrong. Self-blame is a very powerful tool used by predators to keep their abuse of others secret. Sadly, any blame from others (often from inside the group) creates a second wound for the CSA survivor. To promote healing and recovery for survivors, they must not be blamed for any part of their personal violation.
Elizabeth is often confronted with the question, "Why didn't you run?" For her, it was a matter of survival.
Most people do not connect the dots between her kidnapping and brainwashing.
When the police first found her, Elizabeth repeatedly told the police she was not Elizabeth Smart. the officer got the wanted flyer and held the picture up to her face and took her into custody. It was Elizabeth! At the time, everyone wanted to understand why she would act this way, and I was asked to appear on the daytime John Walsh show with former clients (a mother and daughter) who described their experience with destructive mind control. We talked about my work and how the exiting process worked for her.
Later that year, I was invited by the Department of Justice to speak at the National Amber Alert conference about Elizabeth Smart and Jaycee Dugard. I was asked to explain cult mind control. I described the dual identity dissociative disorder. By understanding the programmed cult identity it helped people better understand why they denied their true identity. Police had asked the cult identity of these young women who they were. This cult identity had been programmed to destroy the authentic self, so of course, it would deny being that other person. Fortunately, cult brainwashing does not erase the authentic self and both women have gone on to live their lives independently.
Survivors Speak Out
Survivors of abuse are speaking out. The #MeToo and #ChurchToo movement helped to empower survivors and many began to share their stories.
As for Elizabeth Smart, she is an activist and speaker. In her TEDx talk, she discusses "her abduction and encourages you that when you are faced with a trial, don't give up, don't surrender, move forward, because you never know the lives you will be able to touch."
The Atlantic Monthly recently profiled friends of Freedom of Mind, Mark and Kimmy O'Donnell, and featured their stories of activism and survival being raised in the Jehovah's Witnesses.
In the Netherlands, the Reclaimed Voices Foundation seeks to give a voice to abuse survivors and advocates for policy change and accountability from within the Jehovah's Witnesses.
Marci Hamilton, JD, at CHILDUSA, is working hard to abolish any statutes of limitation for child sexual abuse.
Take advantage of the many resources available. Educate yourself on the warning signs of abuse. Learn the steps to take if you suspect any children are in danger. But most importantly, empower our youth to recognize and fight against predatory influence.
Vlog
Additional Resources
Warning Signs for Parents
(People Magazine, March 25, 2019, pg. 63)
Be alert to attention your child is receiving.
Check your own gut.
Watch for secrecy.
'Playful Touch' often isn't.
Encourage kids to tell
Child Abuse and Prevention Resources
National Center for Disease Control and Prevention
National Coalition to Prevent Child Sexual Abuse and Exploitation
Prevent Child Abuse America
Healthy Families America
National Alliance of Children's Trust and Prevention Funds
Stop It Now!
Darkness to Light
Association for the Treatment of Sexual Abusers (ATSA)
Prevention Institute
Child Help USA
National Coalition to Prevent Child Sexual Abuse and Exploitation
Child Care Aware
Child Care Resources
Care.com: Find Child Care Resources and Referrals to Babysitters and Day Care
2-1-1: Finding community resources in your area
National White and Yellow Pages