There are many kinds of high-control environments. You might think first of a cult compound or perhaps the house of an abusive family. One of the most controlled places is omnipresent in American culture, joked about and mulled over in personal conversations and politics. I'm talking, of course, about the United States prison system. After incarceration, a person receives a number. They wear uniforms and eat inexpensive food. Their identities must be changed to fit rigid rules and regulations. Likewise, the prisoner's identity must conform or be punished. The trauma of the environment and (the BITE Model) threatens their ability to exist as functioning members of society once they walk free. Ramadan Shabazz is a rare success story, having emerged (with the assistance of former Governor Charlie Baker and the parole board) from incarceration more stable than before. Ramadan Shabazz and my friend, Dr. Richard Parker, joined me on the Influence Continuum podcast this week to discuss his life journey and the phenomenal effort to help him be a free man today.
Ramadan Shabazz is a 73-year-old man living with the Parker family in a suburb of Boston. He was raised in South Carolina and then attended school in Dorchester, Massachusetts. In 1971, he was drafted into the Army and sent to serve in Vietnam. He returned to the United States, struggling with terrible PTSD and drug addiction. He sought help from the VA, but they did not help him. He got into trouble and participated in an armed robbery, resulting in the deaths of two men. Mr. Shabazz was initially sentenced to death but subsequently changed to life in prison without parole. In 1983, he began his 40-year association with the Parker family. While incarcerated, Ramadan earned his bachelor's degree and master's degree from Boston University. He also participated in programs to assist other prisoners with mental health struggles. In 2022, Governor Baker commuted his life sentence. Ramadan was freed from prison on March 15th after 51 years of incarceration. He works at a Boston food bank and a peer group for ex-incarcerated individuals.
For Ramadan, this kind of volunteering was crucial in getting through his prison sentence. Early on, he met several older incarcerated men serving time for decades. They advised him that he needed to keep his cool if he was going to stay safe. He occupied his time getting his bachelor's. Earlier in his incarceration, the Department of Corrections was more lenient, so five years after his conviction, Ramadan was moved to the minimum-security prison, where he met Professor Marjorie Striker. Professor Striker came to the prison with a program called Alternatives to Violence, which she encouraged Ramadan to join. Mrs. Striker was Rich Parker's mother-in-law.
Shortly after coming home from Vietnam, Ramadan had tried to seek help for his PTSD symptoms from the VA but had gotten little response. In meeting Professor Striker, he found the support that he had needed years earlier. She corresponded with him regularly after the program ended, and, her adult children, interested in the intelligent, compassionate man their mother described, also began to write to him. The Quaker value system of the program may also have helped turn his mind toward the subject of religion. During his incarceration, Ramadan converted to Islam and attributes much of his success to the motivation and solace of his faith.
Unfortunately, this positive change presented yet another of Ramadan's many hurdles after leaving prison. Having changed his birth name while in prison, he needed a new ID. The name change makes it challenging to get hold of his birth certificate. However, getting a new form of ID was incredibly difficult without the birth certificate. Rich and Ramadan petitioned their state representative for help getting the registry to release the birth certificate. After five months, Ramadan obtained his MA ID, allowing him to attain paid work and open a bank account.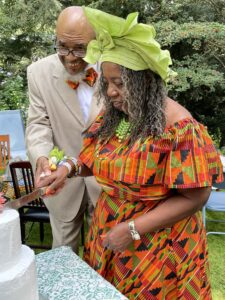 Ramadan has also faced the usual difficulties in adjusting to the new world. After fifty-one years in prison, even using a cell phone is a whole new experience. In our interview, Ramadan focused on the experiences he's valued since getting out: seeing the ocean for the first time in decades, going out to an Indian restaurant buffet and eating whatever he likes, seeing a symphony Rich played violin in, and feeling the music vibrating around him. He acknowledged that he couldn't make up for the lost time but is grateful for the assistance of his attorney and the Parker family (with whom he's staying until he can get his feet under him) and the opportunities he still has.
Feeling how I do about the prison system's restrictive, dehumanizing conditions, I encouraged Rich and Ramadan to share what they'd want to say to President Biden if they had his ear on the subject. Rich pointed out the difficulty of striking a balance between justice and mercy. A person, even a remorseful one like Ramadan, must make some kind of restitution for violent crimes. We feel that locking up someone for life is not helping them become a better member of society. All it does is throw away yet another life. Ramadan agreed and emphasized his desire for incarcerated persons to have better work opportunities, community service, and support their families while serving time. He suggested that everybody should get at least one shot to improve themselves and the world around them. What they do with that chance shows who they are. There is room for improvement in the Massachusetts prison system.
Moving forward, Ramadan is excited to enjoy his freedom! He wants to work with senior citizens and the mentally ill. In short, he wants to make a difference. He also wants it to be known that his heart still goes out to the families of the two security guards shot during his attempted robbery, Mr. Harry Jeffreys and Mr. Calvin Thorne. He feels deep regret for his past actions that fateful day. Two people died, and his heart hangs heavy forever.
Ramadan and Elaine were joyfully married on September 15, exactly 6 months to the day after he was released from prison. Forty supporters and well-wishers attended their wedding. Steve was honored to attend and take part in this wonderful event.
If you wish to help the newlyweds with a contribution to start their new life together, please do! Ramadan's GoFund me is here: https://gofund.me/9250b66e