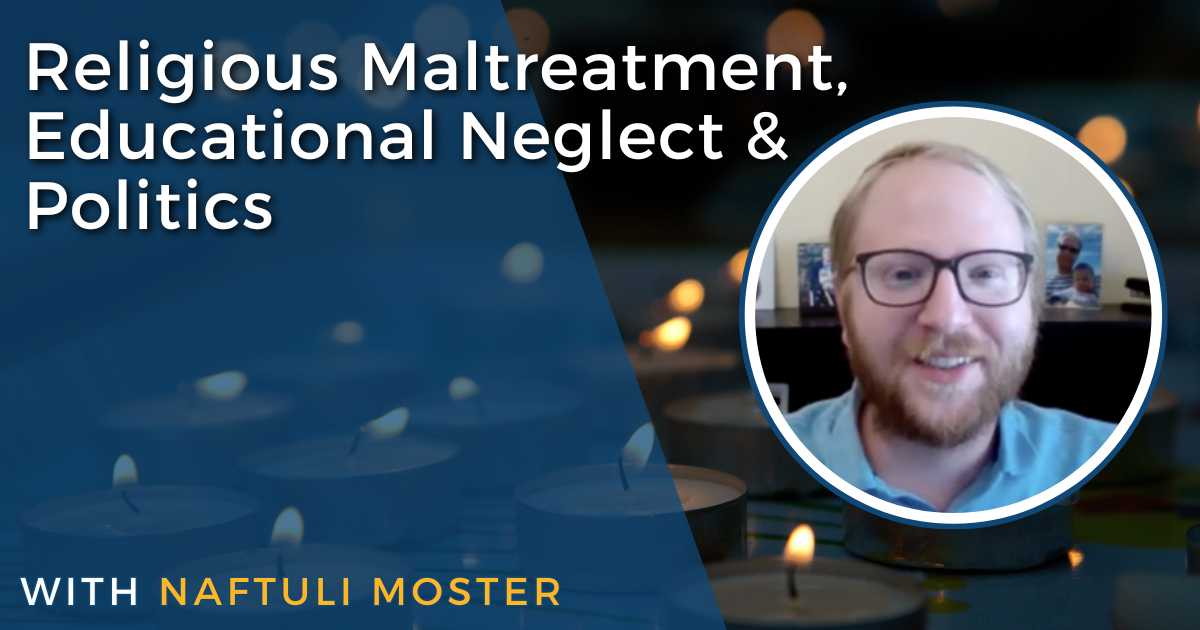 The First Amendment of the United States Constitution guarantees religious freedom and prohibits the government from establishing or favoring any particular religion. But when children experience educational neglect as a result of religious doctrine or practice, effective and appropriate intervention must be taken on their behalf.
Educational Neglect is Considered Child Abuse
Religious maltreatment involving sexual, psychological, or physical abuse is most familiar. But maltreatment can also include severe educational neglect and can occur in any religious environment or denomination. However, children who live in authoritarian and insular religious cultures are most vulnerable to any of these forms of abuse or neglect—including not receiving an adequate secular education mandated by law.
I was recently introduced to Naftuli Moster, founder and Executive Director of Young Advocates for Fair Education (YAFFED). Moster grew up in the Belzer Hasidic (ultra-Orthodox) community in the Borough Park section of Brooklyn, New York. His education was provided solely through the Belzer yeshiva system, which he attended from the age of 2-1/2 years until his late teens. He was an excellent student, but all of his learning was either in Hebrew or Yiddish texts. English was not spoken at all, either in the yeshiva or in the community.
Naftuli Moster saw mental health problems in his community and decided he wanted to become a psychologist. However, he encountered great difficulty in that endeavor. The yeshiva system had not prepared him in any way to be able to take advantage of secular education opportunities. In our interview, he went into great detail about the level of issues and problems he had to endure to learn. Moster was eventually able to obtain a Master's in Social Work, but he had to begin from scratch in order to do so. His experience inspired him to work on behalf of ultra-Orthodox children whose secular education is almost completely ignored. I asked Moster to describe his education in the yeshivas and explain why he was so unprepared to pursue higher education. It is quite a fascinating story!
Yeshiva Education in the Belzer Orthodox Community
The yeshivas attended by Moster are private religious schools. Such schools exist in all ultra-Orthodox communities. Private religious schools are also a feature of non-Jewish religious communities—Catholic, Protestant, Scientologist, Seventh Day Adventists, and Mormon, for example. But all these schools are still subject to the legal requirements of the state in which they exist. New York State law says that nonpublic schools are supposed to provide an education that is at least "substantially equivalent" to that provided to students in public schools.
Although the yeshiva claimed to provide instruction in math, science, and English, these subjects were given 90 minutes at the end of the school day in elementary and middle school. Instruction in these subjects was provided at a very rudimentary level and was not considered a priority. They were often canceled for weddings or Shabbat preparations. Good behavior and strict attention were not required of the boys during those classes, as they were during Judaic studies. By the time he was in high school, Moster was spending 14 hours a day in yeshiva – and not even one hour a day was spent on the secular subjects required by the State of New York.
Even Moster's goal of becoming a mental health professional–which in other communities would be considered realistic–was a departure from the usual trajectory of most young Belzer men. Ultra-Orthodox men are expected to devote their lives primarily to studying sacred Jewish texts. Ironically, Hasidic girls, who are not expected to grow up to be religious scholars or rabbis, often receive a better secular education than boys.
Hasidic girls marry young and typically have many children. At the same time, they are expected to be the family's primary breadwinner while their husbands are devoted to studying religious texts. Therefore, girls' schools usually offer New York Regents exams and diplomas. Most importantly, the girls learn to read, write and speak English in order to better prepare them for employment and self-sufficiency.
Moster didn't know of any psychologists at all in his community. But something was calling him to pursue this path, and he was determined to do it. His first stop was at a local Orthodox school that was a branch of Touro College. The first thing he was asked was whether he had a high school diploma, but he didn't know what a diploma was. Moster was advised to ask his yeshiva for proof of his education, but the letter they provided was of no use. It was not backed up by a transcript or any evidence that Moster had learned any of the basic secular subjects required by the State of New York.
People outside the ultra-Orthodox world often identify the customs of these communities as similar to what existed in Poland or Ukraine prior to World War II. But, Moster says, he doesn't really know if that is true. Despite having many Holocaust survivors in the Belzer community, including his own grandparents, very little information was ever presented about their previous lives, and the yeshiva did not provide lessons in geography or even the history of their own Hasidic background.
Educational Neglect Creates a Lifelong Handicap
Moster explained that he really knew nothing about education as it is understood in America. He did not know what "majors, minors, semesters, or a GPA" were. Moster's entire life and education had been conducted in Yiddish, among people who looked, spoke, and acted just like he did. Although he knew some basic English words, he was essentially struggling to find his way in a "foreign land." The college offered him the option of taking an entrance exam, which consisted of basic math and writing an essay. Moster was accepted into the college but was required to take eight credits of remedial English, which did not count toward his degree.
Moster eventually transferred to CUNY, taking classes in the evenings and on weekends. It was all still a struggle even after many years of studying. He realized the inadequate secular education he had received had given him a "lifelong handicap" as he still has trouble reading books in English. Moster, along with all the other boys in ultra-Orthodox yeshivas, had been subjected to a severe case of educational neglect.
Addressing the Issue in the Ultra-Orthodox Community
How could this be possible in a country that supposedly values education and has clear laws requiring that no child should be left behind? This was the beginning of his drive to help other ultra-Orthodox children receive the education they are required to receive by law.
Doing this, however, placed Moster in direct opposition to the ultra-Orthodox leadership, and he knew they were powerful—not just within the community itself, but with connections and clout within the political arena in New York City. Politicians want votes and have apparently been willing to overlook violation of the law in order to secure large voting blocks. Tragic. But slowly, Moster built up his relationships, and proceeded with the same confidence and commitment he had in his quest for an education. In 2012 he consulted with a civil rights attorney who encouraged him to start an organization to advocate for the children who were not provided the education to which they were entitled by law. YAFFED was the result.
YAFFED is designed to raise awareness about education equality issues that are relevant to all of New York's nonpublic school children, not just those in the Hasidic community. Grassroots and community-based advocacy is supported to press for change and require enforcement of laws that are designed to provide every child with the education they deserve. One of their most important initiatives is to push for legislation that would tighten the requirements for any private school receiving government funding. In their research, YAFFED found that some Hasidic schools receive two-thirds of their funding from the State of New York. The legislation proposed by YAFFED would require any school applying for government funding to certify that they are meeting the "substantial equivalent" requirement. If an investigation disclosed the school was not doing so, they would lose their funding for five years.
YAFFED welcomes volunteer support. They particularly need co-sponsors in the New York State government for their legislative initiatives and the services of attorneys willing to work on a pro bono basis.
Educational Neglect, Religious Exemption, and Politics
Educational neglect (and all other forms of child abuse) can occur in private religious schools of any denomination. There is a public-school mandate to report suspected abuse, but regulations to protect children may not be enforced elsewhere. It is not only a problem in ultra-Orthodox communities. The Fundamentalist Latter-Day Saints (FLDS), whose leader, Warren Jeffs, is in jail, exploited public funds, while the cult exploited member's labors and earned millions of dollars.
I serve on the Board of Advisors for the Child-Friendly Faith Project (CFFP). CFFP was founded by Janet Heimlich, author of Breaking Their Will: Shedding Light on Religious Child Maltreatment. CFFP helps inform the general public and media by providing a clearinghouse of resources on religious child maltreatment, resources for survivors, and significant legal cases and decisions. CFFP also works with faith communities to provide training resources for religious professionals to help prevent mistreatment and abuse within their community.
One of the cases highlighted on the CFFP website involves the Circle of Hope Girl's Ranch in Missouri. Although this boarding school had four substantiated reports of abuse since 2006, the Missouri Department of Social Services had no authority to intervene. Under Missouri law, a residential facility operated by a faith-based organization is exempt from licensing requirements. However, exposure on social media finally led to more than 100 charges against the owners and the closing of this facility.
Laws against child abuse of any kind and mandating the provision of sufficient education to children have already been written. Appropriate and effective enforcement mechanisms must be in place to guarantee the law is followed in all schools, including private religious ones.
Naftuli Moster and I want everyone to be outraged that thousands of children in 2021 are being denied a sufficient education in violation of the law. If you are an activist, a philanthropist, a media person, involved in politics, please get involved and be of help. Great concern about children in third world countries not receiving an education is often expressed (rightly so). But it is also happening right here, in the United States of America, one of the wealthiest and most technologically advanced countries in the world. That is outrageous!
Video Interview
Further Reading