June 14, 2018

Dr. John Dehlin & Mormon Stories Podcast
STEVEN HASSAN – WHAT THE MORMON CHURCH CAN LEARN FROM CULTS TO DO/BE BETTER
Mormon Stories Podcast 938-939
About a month ago, we received an email from John Dehlin requesting an interview for his podcast Mormon Stories and his Youtube channel. Frankly, I have been so busy with clients and with my doctoral program that I was going to decline. But when I read further down in his email, he wrote: "For some background on me, my excommunication from the Mormon Church was covered in the New York Times. My TEDx talk can be found here. My academic research can be found here." I learned he was a psychologist doing serious research on gender issues. I have always supported gay rights, so I was impressed by his work. For some background on my human rights stance, I have previously written a blog on LGBTQ rights here and against conversion "therapy" here.
I was definitely intrigued. I immediately read the New York Times article, watched his TEDx talk and then looked over his academic research. In essence, I learned that John had had a "crisis of conscience." I then remembered a former member I had talked with decades ago from another large prominent group, also established in the 1800s with millions of followers.
Raymond Franz was born into the Watchtower Society and rose to prominence as one the few men in the Jehovah's Witness Governing Body. He wrote a book entitled Crisis of Conscience and, later on, In Search of Christian Freedom. After sixty years of devotion, his conscience forced him to leave and speak up. He wrote that he realized the group was not following the Bible as they claimed they did. The leadership did not consider Jesus nor Scripture when they decided on policy. They did not pray and seek answers from God. It was all about the corporation and, often, to the average member's detriment! He left the Watchtower and became their most prominent ex-member. He spoke out and a lot of people left the group!
John Dehlin was not a powerful Mormon leader. But he was a true believer. However, he realized that his coworker friends who he learned were gay were nice people and deserved respect, kindness, compassion and not judgment and condemnation. He decided to try to reform the Church he loved and he was kicked out for speaking his truth and demanding human rights for gays.
John is a fellow activist willing to stand up for and put up with all the issues of being vocal! I love his passion, his quest for human rights and his desire for activism.
I really wanted to speak with him and get to know him. I asked my assistant Jane to contact John and asked if he had read my book Combating Cult Mind Control yet, and, if he hadn't, offer a review copy to read before we did the interview.
The rest is history, should I say? He loved the book and called it "transformative" and wrote this page on his website offering his analysis of my BITE model and the Mormon Church. What do you think? Posted above is the link to the fascinating podcast he did on my work and the hour we talked together. Please give it a listen and share it broadly if you think it is as valuable and we both think it is.
Assessing the Mormon Church Using the BITE Model for Cults
Below are a series of images that include the main points of the BITE model. John colored the bullet points in the following ways:
Green means: "I don't think the Mormon church does this in modern times."
Orange means: "I see this happening sometimes in the Mormon church (like on Missions), but not as a general rule ."
Red means: "This occurs regularly within the Mormon Church."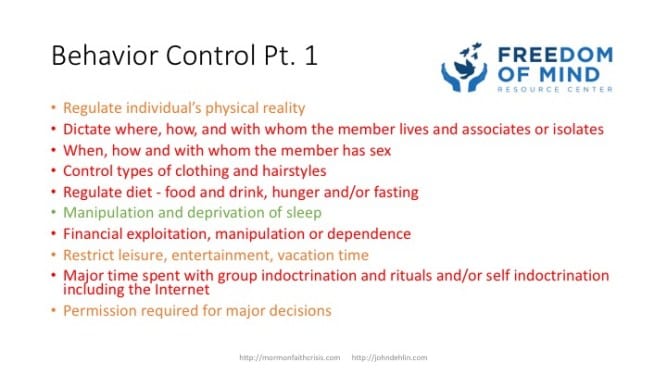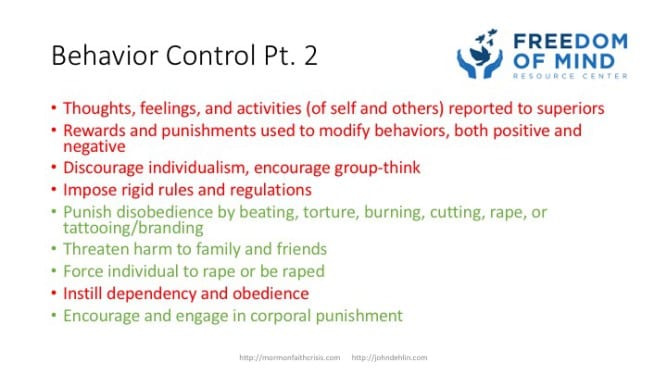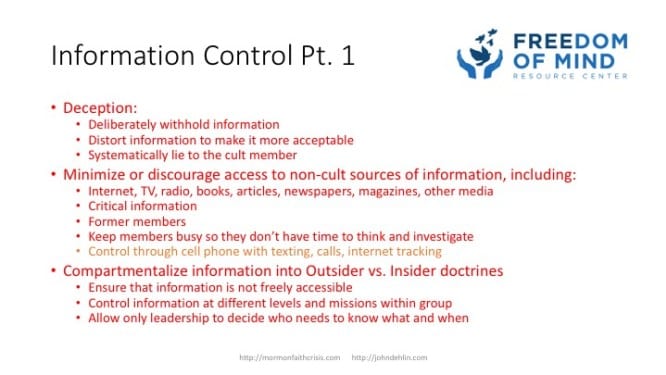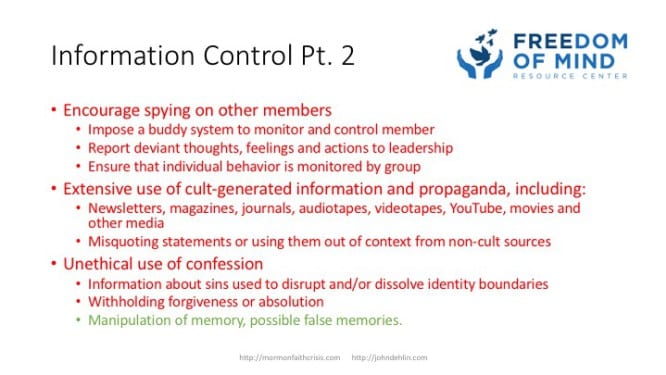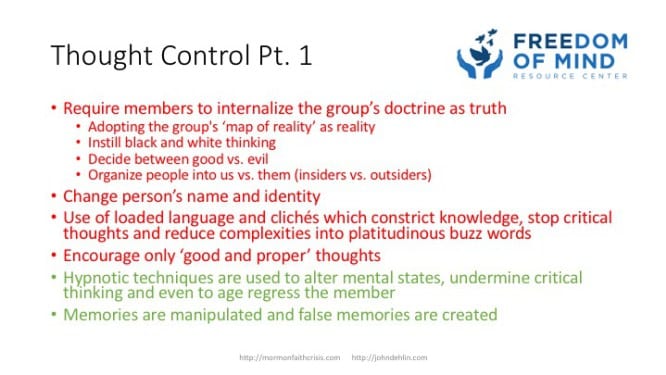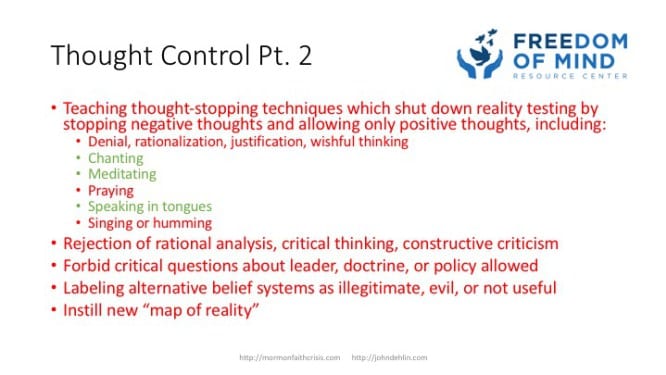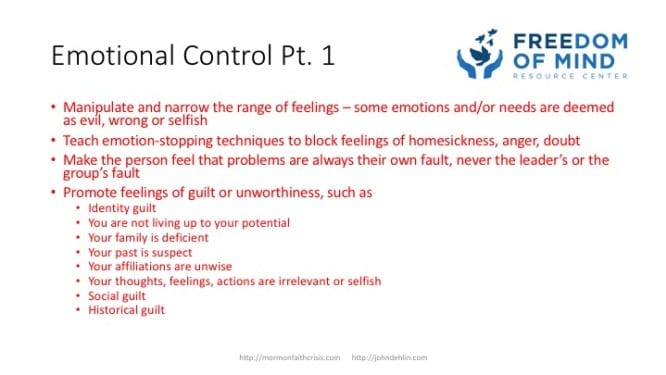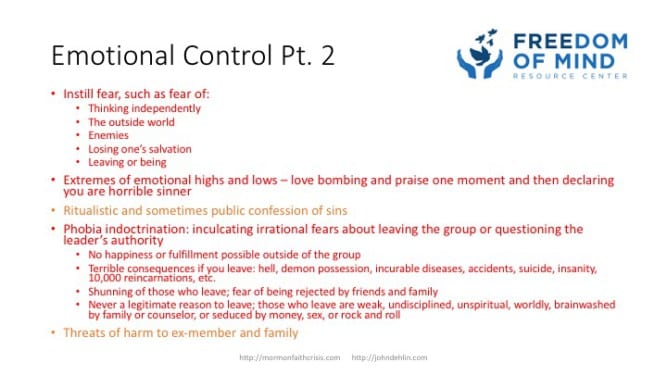 Vlog: