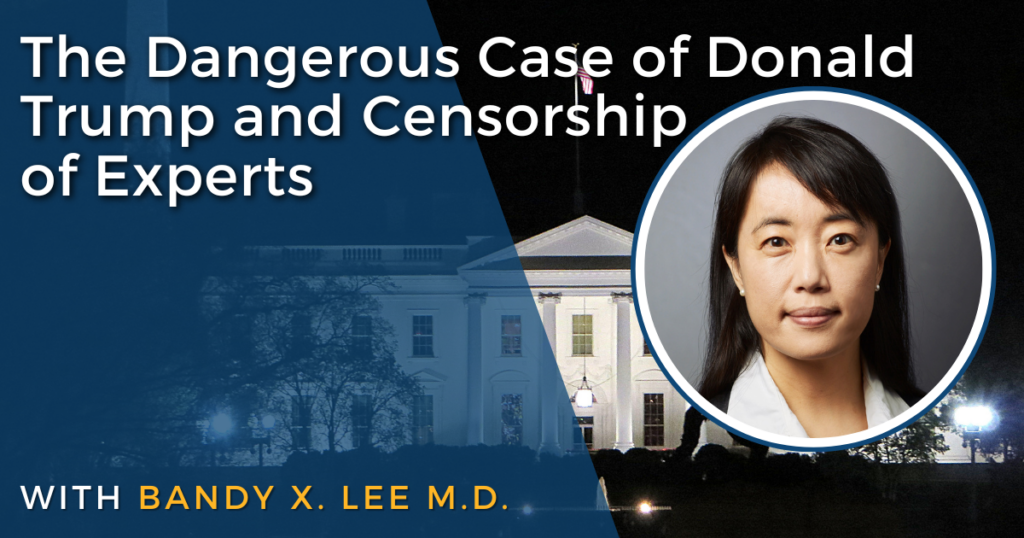 This week, on my podcast, The Influence Continuum, I spoke with Dr. Bandy X. Lee, the forensic psychiatrist and world-renowned expert on violence, who is the editor of the best-selling book, The Dangerous Case of Donald Trump: 37 Psychiatrists and Mental Health Experts Assess a President. Years after she and other mental health experts warned that Trump was unfit and a danger to the public, we continue to see vivid proof that the public has suffered because of the censoring of experts! Her recent book is Profile of a Nation: Trump's Mind, America's Soul. What was behind the mainstream media silencing of credible experts like Dr. Lee, and myself, and even the most renowned names in mental health? We discuss this and many important topics like the "duty to warn" and the importance of mental health, especially in people who are supposed to be public servants. We discuss the 25th Amendment of the Constitution and how it could be bolstered to prevent anyone so grossly incompetent from coming to the Presidency again. We also discuss the corrupt and authoritarian family court system in the United States, which has contributed to diminishing our collective mental health: the subject of a forthcoming book.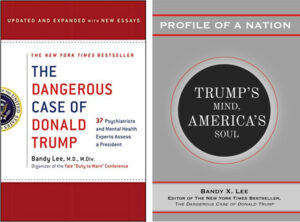 Bandy X. Lee, M.D., M.Div., taught at Yale School of Medicine and Yale Law School (2003-2020). In addition to an authoritative textbook, she published over 100 peer-reviewed articles and chapters, 17 edited scholarly books and journal special issues, and more than 300 op-eds in outlets such as The Guardian, The New York Times, The Boston Globe, The Independent, and Politico. Dr. Lee is currently president of the World Mental Health Coalition.
Censorship in the Media
The Dangerous Case of Donald Trump: 37 Psychiatrists and Mental Health Experts Assess a President became an unprecedented New York Times bestseller. Within three months of its release, it was the number one topic of conversation, covered by mass media, and all significant networks were inviting Dr. Lee on to speak. A misinformation crisis began when the American Psychiatric Association (APA) aggressively silenced the topic. They tried to justify their public campaigns against independent experts by saying that speaking about the mental health aspects of the Trump Crisis would create a stigma against those with mental health issues. As Bandy Lee states, 'All the literature shows that silence promotes stigma,' not discussion.
The APA said the experts in the book were unethical in making a "diagnosis" without meeting him in person. It said it violated the APA ethics code, but Dr. Lee was not making a diagnosis when calling Trump "dangerous." She is not even a member of the APA, and no other mental health association has such a "rule." Dr. Lee and other psychiatrists have experienced a great deal of censorship in the media due to the misuse of the so-called "Goldwater Rule," which has been incorrectly applied. I wrote a blog about my interview with Dr. James Fleming, where he explained the history of the "Goldwater Rule."
There is an obligation for experts to warn the public of a dangerous elected official, but they continue to be censored, and their warnings of dangers are ignored. As a result, no suggested interventions into the social, cultural, geopolitical, and civic dangers have been implemented. Despite Bandy Lee not being a member of the APA and the Goldwater rule being subordinate to a duty to protect society by warning against the dangerousness and unfitness of Donald Trump as president, she and her colleagues are aggressively silenced. The APA should lead the way in an ethical and professional obligation to protect society from dangerous individuals. Instead, it had been contacting media outlets to censor these experts. Now, all major television and radio outlets are scared to have top experts speak about this topic, and the New York Times removes Dr. Lee's quotes when she is interviewed. If we cannot talk about this problem, it is a worrying situation for the future.
The Psychological Dangers of Donald Trump Leading to a Public Health Crisis
The opinions that Trump espouses are not simply a different political stance or everyday ideological discourse but symptomatic of mental unfitness, Dr. Lee argues. She calls the replication of his symptoms "Trump Contagion," as they spread across the general population like a contagious disease. When a person that dangerous is in power, be it Trump or a cult leader, false beliefs and misinformation spread rapidly. In today's era of social media, 24/7, it isn't hard for a figure like this to prey on psychologically vulnerable people.
Dr. Bandy Lee has often said that controlling this mental health pandemic would be the key to controlling the COVID pandemic. Public health measures were ignored due to Trump's authoritarianism, and America had the highest death rate per 100,000 of the population in the industrialized world.
Without proper intervention, Trump has become more violent and delusional in his thoughts and beliefs, expanding into the public through the cult of Trump. Mental health experts are usually involved and consulted when we need to protect the public and contain dangerous individuals. From the courts to law enforcement, we rely on their opinion; yet professional opinion is ignored when discussing an unstable elected figure, posing disproportionately greater dangers. As a result, deception and information control were used to win elections and advance an agenda previously unpopular with the public, who would otherwise recognize it as destructive.
The 25th Amendment
The 25th Amendment includes a clause that if a president could not carry out his office duties for physical or mental capacity reasons, then the cabinet and vice president could step in and even involuntarily remove them. Medical and mental health data should have driven this exercise, but instead, because of the silencing of mental health experts, this became a purely political exercise conducted by the Vice President.
Bandy Lee and her colleagues told the then-speaker, Nancy Pelosi, that mental health professionals should be consulted to succeed in her impeachment of Trump. They were not consulted, and both impeachments were unsuccessful. Regarding prosecution, Bandy Lee stated that the experts also advised, "This should be carried out in a way that takes into account mental health aspects so that Donald Trump cannot turn it into a purely political exercise and make it ineffective."
Dangerous Authoritarian Individuals in Power
Dr. Bandy Lee notes that over her last 25 years of practice, "the dangerous personalities that used to be confined in jails and prisons are increasingly taking up leadership positions in society." We have seen what happens when individuals like Adolf Hitler and Joseph Stalin run societies. However, due to a crisis of misinformation and a lack of experience with these individuals, the general public is unaware of the widescale dangers.
Corruption and Cult-Like Parental Alienation in the Family Courts
In my interview with Dr. Lee, we then discussed a topic that needs more attention: the authoritarianism and secrecy that run through the family court system in America. They are the only court not bound by the law, as they are given broad discretions in secrecy. Family courts are a last resort for a judicial career; hence, the quality of those in operation is generally low.
The family courts have become almost cult-like in the judges' authoritarian reign and corruption, attracting dangerous personalities. Unregulated psychological experts without doctorates, who charge exorbitant fees, are used to make predetermined decisions. Reem Alsalem, UN Special Rapporteur on violence against women, in June 2023, stated, "The tendency of family courts to dismiss the history of domestic violence and abuse in custody cases, especially where mothers and sometimes children have brought forward credible allegations of domestic abuse, including coercive control, physical or sexual abuse is unacceptable." The family courts have become unregulated and unaccountable, with many children being transferred to the violent parent, even after many allegations of abuse, and away from the safe and protective parent, leading to hundreds of deaths per year. Bandy Lee calls this a "hidden genocide" as certain types of people – domestic abuse victims – are targeted in the courts, and the public remains unaware. Family bonds with the safe, protective parent are removed, and predatory alienation ensues, similar to the tactics employed within a cultic group to break up a family. As Dr. Lee explains, the family courts are "functioning as a mini cult in the sense that they advance a false narrative that the safe parent is actually abusive and the abusive parent is a good parent."
The World Mental Health Coalition (WMHC)
Experts' societal role is to fight against this misinformation and mind control and to share knowledge with the public for democracy to continue. Dr. Bandy Lee formed the World Mental Health Coalition in late 2017, consisting of around 1,000 mental health professionals concerned about societal mental health. It aims to bring together professionals to "educate the public and policymakers about fitness for government leadership and to heal the fabric of society to prevent dangerous leadership in the first place." Together, we can move towards a democracy where the public can access knowledge to make informed decisions.
Resources:
The World Mental Health Coalition Website
Dr. Bandy Lee and Dr. James Gilligan: Do We Surrender Our Moral Compass to Technical Rule?
Yale Forensic Psychiatrist Bandy Lee Discusses the Dangerous Case of Donald Trump
The Public Health Disaster of Donald Trump, a Narcissistic and Sociopathic President
Subscribe to Dr. Bandy Lee's Newsletter here.
Follow Dr. Bandy Lee on Twitter here!
Dr. Bandy Lee's book, The Dangerous Case of Donald Trump: 37 Psychiatrists and Mental Health Experts Assess a President, is available here.