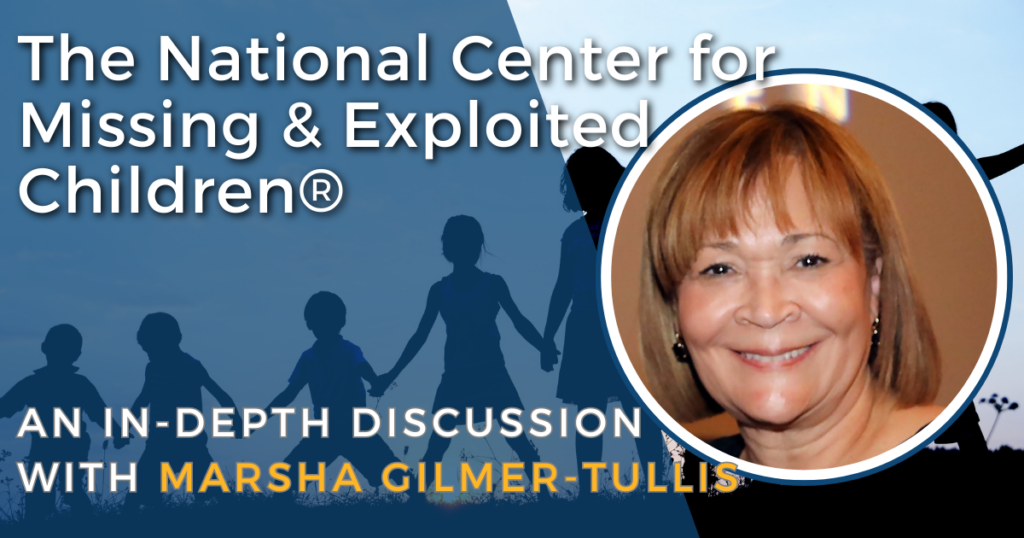 Marsha Gilmer-Tullis and the National Center for Missing & Exploited Children® deal daily with the unthinkable. As the Vice President of the Family Advocacy Division, she uses her more than 40 years of experience in the mental health and child welfare fields to coordinate therapeutic services to the families of missing as well as sexually exploited children, including online enticement and child sexual abuse material survivors. I am honored to have interviewed her as one of my guests for the Influence Continuum podcast.
History of the National Center for Missing & Exploited Children
In 1981, Adam Walsh was abducted from a department store in Hollywood, Florida when he was with his mother. He was found deceased two weeks later. John and Revé Walsh, his parents, are founders of the National Center for Missing and Exploited Children. John Walsh was the host of America's Most Wanted television show. I was honored to be a guest on his daytime show at the time when Elizabeth Smart was found.
There had been other missing child cases during that same time. There were the Atlanta child murders with many African American males, being abducted and murdered. John and Revé Walsh were adamant that no other family should have to experience what they went through.
Family Abductions
Since then, many cases have involved family abductions where a parent or guardian abducts the child and refuses to allow the other parent access. These are complex cases as the "taking parent" influences the children's attitude with falsehoods and exaggerations, sometimes telling the children their other parent doesn't want or love them. This can have a profound impact on the belief system of the child.
Even if you can't have a good marriage, have a good divorce."

~ Marsha Gilmer-Tullis, Vice President  of the Family Advocacy Division, National Center for Missing & Exploited Children®
Marsha Gilmer-Tullis and the National Center for Missing & Exploited Children® can facilitate reunifications for the "searching parent"  upon location and recovery of the missing child. However, even the reunification process can be traumatic for the children. The children may fear the searching parent because of what they have been told.  It is always important to have a professional facilitate the reunification to minimize any potential trauma. Marsha and her team developed a reunification plan with a licensed family therapist to minimize the trauma for all concerned. Ultimately, the goal is for every child to have access to two loving parents.
Training for Law Enforcement, Child Welfare Professionals, and Prosecutors
The National Center for Missing & Exploited Children® provides training for law enforcement and child welfare professionals on best practices and strategies to assist the family and communities where they have missing child cases. In addition, they can provide technical assistance to legal professionals handling cases of missing and exploited children.
Searching for missing children who are on the autism spectrum can be a particular challenge – as many are drawn to bodies of water or have other attractions that could place them in danger. With trained law enforcement, they ask questions about the specific needs of the missing child, which can lead to a quick and successful recovery.
Searching for children who have Autism sometimes requires different search methods, such as utilizing music.  The National Center for Missing & Exploited Children® trains law enforcement to utilize different approaches in the search for missing children who have autism, such as playing music to draw the child out of hiding. These are the kinds of things that law enforcement and others in the field need to understand before they are faced with a missing child incident.
The National Center for Missing & Exploited Children® has a network of therapists called the Family Advocacy Outreach Network. The licensed therapists, recruited from all over the country, work with families referred by NCMEC with specialized training in the field of missing and exploited children.
Since Marsha's team has insights from working with families, they can train law enforcement, therapists, and other professionals on practical and helpful concepts in the field.
Sextortion and Technology Facilitated Abuse of Children
The internet has brought a whole new scope for potential abuse. There are so many cases of children that are being sexually victimized online. It is shocking how young these children are – often 12 to 14 years old.
Many times, young people feel that sexting is harmless, especially peer to peer. They meet someone online, and it seems like they have a relationship. However, they can be coerced into sending photos. Then, the interaction escalates into sextortion, threatening to send the pictures to parents, the school, or friends. The young person believes that their life is going to be ruined.
Young people may feel suicidal or die of suicide because of these crimes because they don't know what can be done. Fortunately, sexually-exploitative images and videos taken as a child can be removed. A CyberTipline Report can be made at https://report.cybertipline.org or at 1-800-843-5678 (The LOST).  The Cybertipline is the nation's centralized system for the online exploitation of children. We would encourage those that find themselves the victim of this crime to please reach out to us.
Cases Never Close Until the Child is Recovered
Many missing children, particularly endangered runaways, are kids in the system. The Preventing Sex Trafficking and Strengthening Act of 2014 mandates that state agencies report all missing children in care to NCMEC. By working collaboratively with child welfare professionals, more youth are successfully recovered.
We never close the case here. We don't close cases until a child is recovered."

~ Marsha Gilmer-Tullis, Executive Director of the Family Advocacy Division, National Center for Missing & Exploited Children®
Additionally, while a youth may age out of the child welfare system, NCMEC will always have an open case until that youth is located.
Nonprofit Funding
The National Center for Missing & Exploited Children® is a nonprofit that has received funding from the office of Juvenile Justice, Delinquency Prevention, acronyms in Washington since 1984. However, there is also a private sector side where they can accept donations or grants.
This organization is huge in my mind with its contributions as a go-to for missing or exploited children. I encourage anyone with a heart for philanthropy to donate here to make a real difference.
Marsha's message resounds. If you are worried about a child, call 1-800-the-lost (1- 800 843-5678)
Additional Resources:
https://freedomofmind.com/parental-abduction-and-alienation-a-discussion-with-psychiatrist-nick-child/