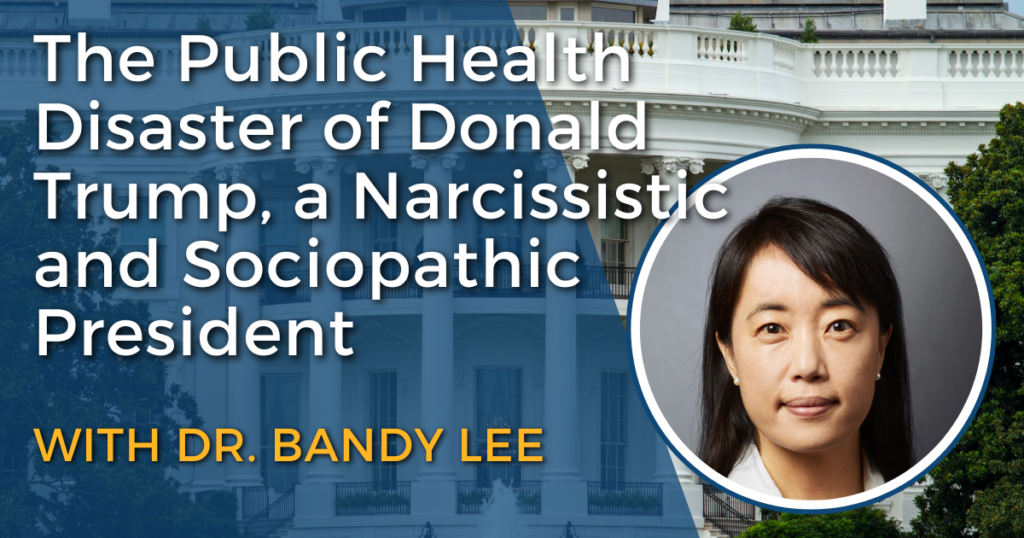 When Donald Trump was elected in 2016, many voices were raised predicting the damage to our democratic way of life that a leader with his psychological disposition would do. Chief among these voices was a group of psychiatrists and other mental health professionals who wrote the in-depth and scientifically based book, The Dangerous Case of Donald Trump: 37 Psychiatrists and Mental Health Experts Assess a President.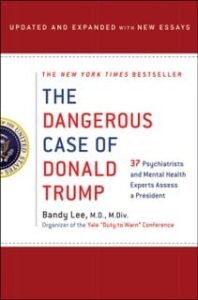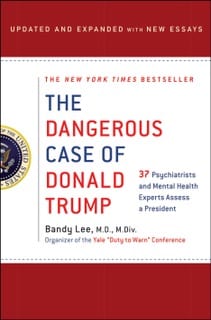 One of the 37 contributors to this book was my colleague, Dr. Bandy Lee, who kindly agreed to participate in my recent podcast. We discussed how authoritarian leadership constitutes a public health crisis, leading eventually to hundreds of thousands of deaths, a crisis of information, including censorship of authors of the book by the American Psychiatric Association, and the continuing damage to democracy that Trump and his enablers are inflicting on this country.
Dr. Lee holds a Master of Divinity degree from Yale Divinity School and a Medical Doctorate in Psychiatry from Yale School of Medicine. From 2003 to 2020, she taught at Yale School of Medicine and Yale Law School and has published extensively, including more than 100 peer-reviewed articles and chapters and 300 op-eds in venues such as The Guardian, the New York Times, and the Boston Globe. Dr. Lee is an internationally recognized expert on violence and is currently the president of the World Mental Health Coalition.
The Dangerous Case of Donald Trump was a New York Times bestseller, and invitations for appearances on various media outlets were forthcoming. However, the American Psychiatric Association denounced the book, saying its authors were "unethical," should not be making a mental health diagnosis without meeting with Trump directly, and claimed they were violating the APA ethics code. (Dr. Lee was not making a diagnosis when calling Trump "dangerous," and she is not even a member of the APA.) The actions of the APA resulted in mental health professionals bringing the subject of Trump's dangerousness to the number one topic of national conversation and to the cancellation of their major appearances altogether.
Dr. Lee points out that the duty to warn, to protect, and to prevent dangers to society takes precedence in any event. In determining the potential for dangerousness, it is not necessary to make a diagnosis first. In fact, in almost all clinical settings, a dangerousness assessment is made before an actual diagnostic interview and is separate from any mental health diagnosis.
Dangerousness, per se, is not a diagnosis at all, nor a fully-formed opinion. Clinicians must act upon signs of danger before there is a full diagnostic interview. According to the American Psychiatric Association's own ethical guidelines, Dr. Lee and her fellow authors have a responsibility to society as a whole, not just individual patients, because of the possibility for prevention before individuals fall victim. This is the crux of the societal responsibility outlined in APA's and AMA's Code of Ethics, the Geneva Declaration, and the Hippocratic Oath.
The Power of Words: Trump's Violent Rhetoric Continues to Have Serious Consequences
People underestimate the power of words. In fact, words from a prominent public figure can create a widespread epidemic of violent acts and establish a culture of violence.
Dr. Lee and the other 36 contributors to The Dangerous Case of Donald Trump tried to alert the public that Trump's rhetoric was not just a political stance or strategy but a dangerous incitement to violence and social divisiveness. Incidents such as the insurrection attempt on January 6, 2021, were warned against in Dr. Lee's book, as well as in my book, The Cult of Trump. Because no serious opposition to Trump's continuous gaslighting and lies was forthcoming, the damage we predicted was done and continues today.
When a severely symptomatic person is in a leadership position, whether in a gang, in a cult, or in the White House, his false beliefs spread rapidly. Pathological leaders are skilled at preying upon psychological vulnerabilities, and direct physical exposure is not necessary—particularly in this era of social media and 24/7 news coverage—for symptoms to spread.
The spread of fixed false beliefs, delusions, and incitement to violence mimics the spread of infectious diseases and creates what is referred to as "shared psychosis." A colleague of Dr. Lee at the World Health Organization, Dr. Gary Slutkin, is an infectious disease specialist who has turned to be a violence expert. Dr. Slutkin runs the internationally acclaimed NGO Cure Violence, which applies prevention methods against infectious diseases to violence, because of the similar principles of spread.
How Do We Inoculate against this Public Health Threat?
It is important to recognize that the situation our nation is facing is not just a Donald Trump problem but an ecological one. An entire political party is "infected" with his agenda, rendering Congress and countless state and local governments nonfunctional. Civil rights that may have been taken for granted for many years are threatened. Freedom of speech is threatened for all but white conservatives. Symptoms of shared psychosis are driven by emotional compulsion and are not amenable to rational persuasion once a person has bought into the distorted worldview presented by narcissistic and sociopathic, authoritarian leaders. A very interesting study linking conservative presidential administrations with an increase in both homicide and suicide rates was done by Dr. Lee and Dr. James Gilligan. To at least mitigate some of the damage that has occurred and hopefully prevents further decline, we need to dedicate the energy and resources necessary to renew our commitment to a truly democratic and supportive society.
Some of these measures include:
Mental health professionals should be featured in national conversations through the media. They should educate themselves by expert training in how to help people coming out of cults or cult-like situations.
Social media outlets must control and remove sources of disinformation as a public health measure.
We must address the socio-economic conditions that give rise to vulnerability to false ideas and delusions.
We need to provide large-scale public education so as to distinguish ethical versus unethical influence.
Lawmakers and judicial personnel need education in basic psychological understanding.
Further information:
Profile of a Nation: Trump's Mind, America's Soul: Lee, Bandy X.: Amazon.com: Books
The APA's Failure to Protect by Muzzling Mental Health Experts Who Warned That Donald Trump Is Dangerous: An Interview With Psychiatrist Dr. Jim Fleming – Freedom of Mind Resource Center'
Yale Forensic Psychiatrist Bandy Lee Discusses the Dangerous Case of Donald Trump – Freedom of Mind Resource Center
The Dangerous Case of Donald Trump: 37 Psychiatrists and Mental Health Experts Assess a President.