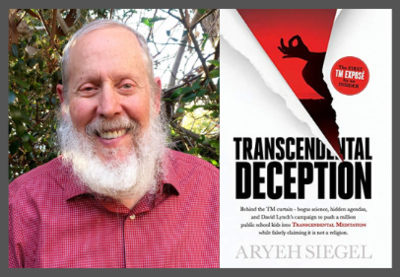 Two programs have infiltrated schools which did not have policies in place to ensure legitimate and safe practices only are given to young students. These two programs are now facing public exposure and important scrutiny. Without sufficient understanding of these programs and the organizations that are contracted to promote them in the schools, there is a distinct danger of undue influence to vulnerable minors. In Chicago, Transcendental Meditation (TM) was used in public high schools for four years. The program, known as "Quiet Time," was promoted to reduce behavioral problems but contained Hindu religious elements and secret practices. In Boston, Re-evaluation Counseling was included for many years in the Boston Student Advisory Committee (BSAC) program. Recent information from student members of the BSAC shows that they felt pressured and obligated to participate in this controversial pseudo-therapy form of peer counseling. An independent investigation showed very disturbing practices by people with no clinical or educational credentials.
Part I: Transcendental Meditation in Chicago Public Schools
Transcendental Meditation (TM) was one of the major cults I included in my 1988 book, Combating Cult Mind Control, and I have continued to promote the work of people who had personal experience and serious concerns about TM. One of those people is Aryeh Siegel, who wrote about his 10-year experience as a TM teacher and high-ranking member of the TM organization. I consider his book, Transcendental Deception to be one of the best written about TM.
A recent decision allowed a lawsuit in Chicago regarding the use of TM in public schools to go forward. This is a critical time to discuss the more recent activities of the TM organization—in particular the attempts to infiltrate their form of meditation into schools, as well as other vulnerable target groups such as veterans. The country is facing an authoritarian cult issue. Most people understand TM only through the organization's public relations and SEO manipulation. They are not aware of the seriously problematic behaviors of its founder, or the deceptive tactics used by TM to gain access to susceptible young minds.
Aryeh Siegel first encountered TM in the early 1970s, when he was a graduate student in public health at Berkeley. One of his close friends, an emergency room physician, had begun to practice TM and recommended it to Siegel. Over the next four years, both of them became more and more involved in the organization. They became TM teachers, spending six months in Europe for training. From 1975 to 1979, Siegel was in charge of all the TM programs in rehabilitation settings, and published the first significant paper describing the use of TM in a prison setting. He was integral enough in the organization to attend small sessions with Maharishi, founder of TM. Over time, Siegel began to realize the research he was pushing on behalf of TM, including his own, was flawed, biased, and did not conform to most accepted standards for research.
Origins of Transcendental Meditation (TM)
TM was created by Mahesh Prasad Varma in the 1950s. After creating TM, he changed his name to Maharishi Mahesh Yogi and began teaching his method of meditation in India. The Maharishi made his first global tour in 1958 and eventually established centers in the United States, Canada, the United Kingdom, and Switzerland.
The practice of TM involves two elements. The first is receiving a presumably personal, secret mantra that forms the basis of the practice. (In reality, however, the same mantras were given to every one of the same age and time initiated.) The second is the puja, which is a Hindu prayer ceremony. Practitioners are taught initially to meditate twice a day for 20 minutes. However, as people got further and further into TM, some, especially teachers, were told to increase meditation time, sometimes for four to six hours a day. Too often these practices resulted in serious mental and physical problems.
During the 1960s, TM attracted many celebrities, including the Beatles and the Beach Boys, as well as thousands of people in the United States who were looking for enlightenment and spiritual direction. Eastern spiritual traditions and health care models became very popular. The Maharishi was actually a clever businessman and established numerous related endeavors, including selling Ayurvedic medicines and promoting Hindu astrological concepts. His real estate and business holdings eventually reached many billions of dollars.
Substantial objective research by Herbert Benson and others showed that meditation, in general, was helpful but that TM was not superior to any other form of meditation. With increased competition from other meditation practices, the Maharishi turned toward even more outlandish claims. He created the Sidhi program promising that practitioners would be able to fly, become invisible, gain the strength of an elephant, or obtain eternal life. They were told that if enough people practiced the Sidhis in groups, world peace would be achieved. Guilt trips were a common tactic to ensnare people to even greater depths.
Siegel recalls the cost of participating in the Sidhi program as being several thousand dollars. Surprisingly, despite the outlandish nature of these claims, many of Siegel's friends were begging for money to participate.
The Dark Side of Transcendental Meditation
In 2010, Judith Bourque published her book, Robes of Silk, Feet of Clay, describing her experience with the Maharishi after going to India to become a TM teacher. But his exploitive actions toward women were well known for many years. In 1968, Beatles John Lennon and George Harrison had spent some time in India studying TM with the Maharishi. They left after realizing the extent to which he was using his status as a guru to take sexual advantage of women, including Mia Farrow. Mia Farrow said Maharishi groped her in this. John Lennon wrote "The Maharishi Song" about his sexually exploitive proclivities.
There has been much media about the problems with the David Lynch Foundation promoting TM in Germany. An excellent documentary was made by ex Tm member David Sieveking titled David Wants to Fly which I highly recommend. 
Transcendental Meditation in the Chicago Public Schools
In July of 2019, several students at the Bogan Computer Technical High School revealed specifics of a program known as "Quiet Time." This program was developed by the David Lynch Foundation, which had been promoting the use of TM in schools for some time. It had been used in the Chicago Schools for approximately four years. One of the students said that instructors spoke in a foreign language without translating so students could understand them. They would place rice and oranges in a pan on a table, set up like an altar. A picture of a man the students did not recognize was placed on the table in front of the "offerings." The TM instructors gave each student a secret word they were told not to reveal (presumably the mantra that each TM practitioner is given).
These revelations ended the Quiet Time program in Chicago Schools. They also led to a lawsuit by former student Amontae Williams claiming that he was coerced into the program in violation of his religious convictions.
Part II: Re-evaluation Counseling in the Boston Public Schools
In Boston, several members of the Boston Student Advisory Council (BSAC) complained about abuse and resigned from their positions in March of 2021. The BSAC was created to give students a voice in developing educational policy. Representatives are elected by students in their schools, and one BSAC member holds a non-voting position on the Boston School Committee. The Boston Globe has done a series of important articles on Jackin's group which I refer to as an authoritarian cult. The report by the independent investigator can be found in this article.
The Boston Student Advisory Council was managed by Youth on Board, a nonprofit that supports youth in community organizing and advocacy. Students are paid a stipend for their work on the Council. For many of the student representatives, the stipend is a source of income they depend on. This placed them in a position where they felt especially compelled to participate in all aspects of the program. The BSAC representatives identified several issues with Youth on Board Director Jenny Sazama, but the most concerning to me is the association with Re-evaluation Counseling (RC).
History of Re-Evaluation Counseling
Re-evaluation counseling (RC), also referred to as co-counseling, is promoted as a form of peer-to-peer counseling developed by Harvey Jackins in the early 1950s. According to Jackins, development of the RC process began when he helped an acquaintance ("M") who was struggling with mental health issues. Jackins spent numerous hours with the man, simply listening to him talk. "M" would cry, laugh, or shake as he spoke and "steadily progressed from a non-functioning, emotionally debilitated state to recovery beyond his former functioning." (Quoted from RC website.)
The truth is that Harvey Jackins was associated with Ron Hubbard, creator of Dianetics (and eventually of the Church of Scientology). The RC website describes it briefly as part of an association with others interested in "human growth" and says that Hubbard and Jackins went their separate ways sometime in the early 1950s. Former  Scientologist and world expert on Scientology, Jon Atack flatly told me his opinion of RC- it was "Book One auditing. Period." Jon Atack is referring to Hubbard's 1950 Book, Dianetics: the Modern Science of Mental Health, which is called "Book One" by Scientologists  Atack also says that Re-evaluation Counseling was used for many years at the Open University in the UK (world's largest university) but dropped after Jackins was implicated in a sex scandal. 
Neither Hubbard nor Jackins had any education or training in psychology, human development, or formal counseling. The similarity of the basic tenets of both RC and Dianetics is obvious. Scientology believes that human beings have reactive minds that respond to the traumas of life, clouding the analytic mind. Auditing is the process by which a person relives the traumas to neutralize them and become "clear."
RC is described as a process whereby people of all ages and all backgrounds can learn how to exchange effective help with each other in order to "free themselves from the effects of past distress experiences." The practice of co-counseling involves attentive listening and encouragement of emotional discharge in the form of crying, laughing, shaking, yawning, and so forth. It is a tenet of RC that the cathartic effect of this discharge by itself leads to personal change. RC is historically dismissive of mainstream psychology and therapeutic interventions and is opposed to psychotropic medication, following Hubbard's ideology.
Attentive listening is a valuable skill, and there are many benefits in creating a context within which people feel heard and respected. However, the suggestion that this process, done in a peer-to-peer context by individuals with no training other than in RC, can address any form of emotional distress is irresponsible at best and downright dangerous at its worst. For example, Jackins argued that homosexuality was a 'distress' that could be cured by enough participation in RC. Dramatic public demonstrations of emotional vulnerability, such as that encouraged as discharge by RC, often cause increased dependency on the organization rather than overcoming whatever problems brought a person into its orbit in the first place.
The unwillingness of Jackins and RC leadership to subject RC theories and practices to peer review or research on its effectiveness is well documented. I recommend particularly "Group influence and the psychology of cultism within Re-evaluation Counselling: a critique" by Dr. Dennis Tourish and Pauline Irving. Jackins made no secret of his belief that his co-counseling practice was the answer to all of the ills plaguing humanity. It seems strange that he would not want to prove its efficacy, opening the way for co-counseling to play a major and accepted role within the mental health community.
RC in the Boston Public School System
Student members of the BSAC reported that they felt pressured to participate in RC sessions led by Jenny Sazama. These sessions were held twice a month in Sazama's home. One of the students who resigned said she felt "pressured to share extremely personal information" and stated she (Sazama) shared "personal traumas with young advocates as if they are therapists." Many of the students referred to RC as a cult, or cult-like and "weird."
The Boston School Committee requested an investigation of the students' concerns. Alan Oliff, former Weston school superintendent, conducted the investigation and his report is embedded in this article. Oliff conducted interviews with 23 people, including staff, students, and parents, and reviewed records, staff letters, emails, and texts. All of the students raised concerns about RC and described Sazama as being very persistent in gaining their participation. Oliff found no mention of RC in the  orientation agendas and no comprehensive explanation of RC's counseling methodologies or its historical underpinnings. A very brief description of RC is provided at the end of the permission slip, but getting specific permission for participation in RC was apparently inconsistent. As a result of the initial report, Boston Schools Superintendent Brenda Cassellius ended the district's relationship with Youth on Board. She also directed that Boston's school system employ only licensed mental health professionals to provide counseling services from now on.
After this, a former member of the BSAC, Keondre McClay, reported his experience with RC while he was in high school. At an overnight retreat in Newton, McClay, who is Black, was asked to wrestle with one of the (white) adults on a gym mat. He was told this would help him deal with his trauma from racism. Fleeing to his room, McClay was followed by Sazama and other retreat participants.
McClay recalls being hugged and encouraged to return to the session while screaming, "Leave me alone!" He was eventually able to call someone to pick him up at midnight. As listed on their website, RC counseling techniques include "physical struggling" with a counselor in an "agreed-upon" way. Beyond the question of whether this is an appropriate technique or not, it clearly was not being agreed upon in this situation.
An expanded investigation was announced just recently by Superintendent Brenda Cassellius. Suffolk District Attorney Rachael Rollins said she had initiated discussions with her leadership team about the incidents described in the Globe story.
The Takeaway – Guarding Against Undue Influence
These two stories of undue influence within public school systems are a stark reminder of how complex a problem influence has become. Programs that may have positive effects first need to be scientifically evaluated and then administered by licensed professionals. Administrators and parents, who are responsible for protecting students from undue influence, need to be fully educated on how different players use their influence. Only then will they be able to perform the necessary oversight to protect their children from potential harm.
Video Interview
Further Reading
Transcendental Meditation:
https://www.npr.org/2016/06/13/481845003/a-childhood-of-transcendental-meditation-spent-in-the-shadow-of-a-guru
Aryeh Siegel Website: https://www.tmdeception.com/
https://tmfree.blogspot.com/2019/08/tm-in-chicago-schools-letter-to-chicago.html
Court rulings TM-Quiet Time in public schools.
Chicago Public Schools. Last week the U.S. District Court for Northern Illinois allowed a student and his father to sue the Chicago Public Schools for damages due to TM's Quiet Time program. It is a huge deal as it puts public schools on notice that they may be sued if they allow TM-Quiet Time programs. 
New Jersey U.S. district Court ruling tossing TM from the New Jersey Public Schools in 1979.
Court of Appeals, 3rd Circuit 1979
Re-evaluation Co-counseling:
https://www.bostonglobe.com/2021/05/28/opinion/moving-beyond-re-evaluation-counseling/
https://critiqueofrc.wordpress.com/2011/06/04/weaknesse/
https://www.icsahome.com/articles/group-influence-and-psych-of-cultism-within-r-c-csj-13-2