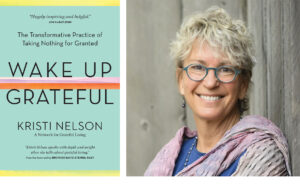 Committing to a practice of being grateful may seem like an odd prescription for healing from adverse life experiences. However, for over 46 years, I have worked with clients who have survived cult indoctrination and known many friends who have experienced various types of tragedy in their lives. Because of their experiences, many have become cynical and lost their sense of joy in life. When I came across the work of Kristi Nelson, I knew she had something valuable to contribute. Kristi is Executive Director of A Network for Grateful Living and the author of Wake Up Grateful: The Transformative Practice of Taking Nothing for Granted. So, I invited her to appear on The Influence Continuum to share the healing effect of practicing gratitude with my clients, friends, and the general public.
Kristi earned a BA from UMass/Amherst, a graduate certificate in Business and Sociology from Boston College, and a Master's in Public Administration (MPA) from Harvard University. Then, at 33, Kristi was diagnosed with Stage 4 Hodgkin's Lymphoma, requiring her to endure multiple surgeries, chemo, and radiation. Through the difficult months of treatment, Kristi found that there were still many things to be grateful for. Eventually, she realized that focusing on what she could be grateful for was a significant part of the healing process and a way to experience more joy and serenity.
Brother David Steindl-Rast – Tireless Advocate for the Practice of Being Grateful
Kristi was raised without any formal faith practice. Her parents believed that decisions about faith and religion should be made by individuals when they were old enough to understand them and make them based on their own worldviews and experiences. The teachings and writings of Brother David Steindl-Rast resonated deeply with her.
Brother David was born on July 12, 1926, in Vienna, Austria, and spent all his teen years under Nazi occupation. After the war, he studied art, anthropology, and psychology, receiving an MA from the Vienna Academy of Fine Arts and a Ph.D. from the University of Vienna. Shortly after he and his family emigrated to the United States in 1952, he joined a newly founded Benedictine community in Elmira, NY.
After twelve years of monastic training and studies in philosophy and theology, Brother David was sent by his abbot to participate in Buddhist-Christian dialogue, for which he received Vatican approval in 1967. He co-founded the Center for Spiritual Studies in 1968 and received the 1975 Martin Buber Award for his achievements in building bridges between religious traditions.
At present, Brother David serves the worldwide community of A Network for Grateful Living and their website gratefulness.org as an advisor. For over eight years, Kristi has been the executive director of this organization and its interactive website, with over 5,000 thousand daily participants from more than 240 countries and territories.
How Can I Practice Being Grateful When Life is Often So Hard?
Kristi begins her book by saying that "not dying changed everything." She points out that most of us often wish our lives were different; we thumb our noses at life and take it for granted. But our lives can be over in a flash and without warning. Kristi says just being alive another day is something we can choose to be grateful for. Approaching life with this understanding and accepting our mortality is a powerful invitation to being more fully alive and living joyfully.
Kristi's experience with a life-threatening illness reminded me of my near-fatal van crash that ultimately led me to become free from the Moonies' mind control. Kristi and I faced the question of why we survived and what we wanted to do with our lives, a typical response to such dramatic, life-threatening experiences and second chances on life. We experience such things as wake-up calls – waking us up to what matters to us and to more actively valuing it. As Kristi points out, however, every day can be a wake-up call and a second chance.
A common misperception about gratitude is that it requires a naïve attitude toward life, ignoring the reality that life is often painful and challenging. Gratefulness, however, is an approach that seeks to find opportunities to grow and learn even during dark and painful times. Gratitude is not a blind belief that bad things aren't going to happen; it is a way of making a person more empowered and more capable of responding to the suffering of the world and to their personal difficulties.
Becoming more grounded in physical reality is also an aspect of learning to live with gratitude. Many of my clients who have escaped cult influence have remembered that when first exposed to the cult's recruitment attempts, they felt a "knot in the stomach" or other physical, intuitive reactions. If they had trusted their response, they might have been able to resist.
The practice of gratitude is radical. It is not hierarchical and does not depend on any specific religious or cultural tradition. Gratitude for what we have, and daily acknowledgment of that gratitude is almost universal to religious and cultural traditions worldwide. Its universal appeal is proven by the many diverse people participating in the daily postings and discussions on the gratefulness.org website.
Kristi emphasizes that one of the most courageous things we can do is to be ourselves fully and joyfully and to live with generosity and curiosity. Life may frequently be tragic and painful. But practicing gratefulness for all the gifts of life that persist even in the face of life's difficulties offers us a balanced, more accurate perspective that will support us through those times.
Further information:
Wake Up Grateful: The Transformative Practice of Taking Nothing for Granted
Ten True Things About Gratefulness: A Conversation with Kristi Nelson – Gratefulness.org