Disclaimer: We believe this information is accurate but if there are any factual errors, please contact us and provide your sources. Contact Us
Name(s)
SSSC – Siri Singh Sahib Corporation – the oversight organization
3HO – Healthy Happy Holy Organization – non-profit founded in 1969.
KRI – Kundalini Research Institute – yogic non-profit
SDI – Sikh Dharma International (former Sikh Dharma Brotherhood) – religious tax-exempt non-profit
The Source Family is a splinter group of 3HO: http://lifeinthesourcefamily.blogspot.com/2015/11/the-wacko-world-of-yogi-bhajan.html?m=1
Yogi Bhajan's (some of them contested) titles: the Siri Singh Sahib, Bhai Sahib, Mahan Tantric, the Spiritual Leader of the Western Hemisphere
Founder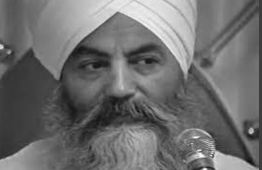 Yogi Bhajan, who hijacked the name Kundalini Yoga to give his yoga status and lure with it, and proclaimed he was the Spiritual Leader of the Sikhs of the Western Hemisphere, was, in fact, a fraudulent businessman with political and religious connections in the highest ranks, a self-declared master of everything with pompous made-up titles, a cult leader who exploited his devotees for his own benefit, who isolated, starved, abused, and groomed children, raped women, insulted gay people, cheated, lied, evaded taxes, dealt with drugs and weapons, deprived devotees of their life savings, threatened opponents with death -a crook in a mean disguise.
In 1968, Yogi Bhajan, a 39-year-old Punjabi Sikh and former customs officer at New Delhi's airport, arrived in the US from India. He claimed to be part of an ancient "golden chain" of Kundalini Yoga masters with no references other than his own. In fact, Kundalini Yoga as taught by Yogi Bhajan, is his creation, a pastiche of breathing and yoga exercises that he copied from others without crediting them. He wove Sikh mantras into the body of his yoga. He converted his followers to his warped version of Sikhism. Good-looking, imposing in stature and appearance, smart and entrepreneurial, he quickly built a cult following. By the time he died in 2004, his business ventures were recording hundreds of millions of dollars in revenue.
Group Description
3HO is the acronym used for the Healthy-Happy-Holy Organization, the first non-profit organization he founded in 1969. Bhajan reigned as an authoritarian and all-knowing spiritual leader over his fast-growing, worldwide empire for nearly 40 years.
3HO's mission today, as stated on their site, reads: "to inspire everyone everywhere to realize their full potential through the uplifting experience of Kundalini Yoga." It reflects the sense of superiority that thrives within 3HO. Due to the controversy that has been unfolding over Yogi Bhajan's misdeeds since early 2020, the suffix "as taught by Yogi Bhajan" has been dropped.
The name 3HO is often mistakenly used to refer to the entirety of Yogi Bhajan's empire. The name of the real umbrella organization, the Siri Singh Sahib Corporation (SSSC), is less well-known. Siri Singh Sahib is one of the honorary titles YB coined for himself. The SSSC oversees all non-profit organizations, such as 3HO, 3HO Europe, the Kundalini Research Institute (KRI), the International Kundalini Yoga Teachers Association (IKYTA) that officially recognizes 25 national federations, Sikh Dharma International (SDI), and all the profit-making entities, such as the multibillion-dollar companies Yogi Tea and Akal Security.
The dark side of the history of Yogi Bhajan's 3HO cult was hidden for decades. In early 2020, this all changed with the release of Pamela Saharah Dyson's book Premka. White Bird in a Golden Cage. My Life with Yogi Bhajan. For sixteen years, until 1985, she served as 3HO's Secretary General. After decades of silence, her testimony of Bhajan's shameless power abuses encouraged many to speak up and share their traumatic 3HO experiences finally.
The abuse-in-kundalini-yoga.com site paints a picture of the diversity, nature, and extent of the abuse, wrongdoings, and crimes committed in YB's cult. A broad view of it helps to recognize this cult's devious design. It shows how Bhajan abused his yoga, 3HO lifestyle, and religion as effective tools to bring and keep his followers under his spell. They were a cover, a pious veil, behind which he could hide what really mattered to him: power and control over every aspect of his followers' lives. He exploited them to enrich himself and abused them in many ways to satisfy his greed and increasingly perverse sexual needs.
The representation of Bhajan's relationship with the different entities in his empire in visual° below is undoubtedly incomplete and not fully correct. Still, it gives an idea about the situation's complexity and the broad reach he had.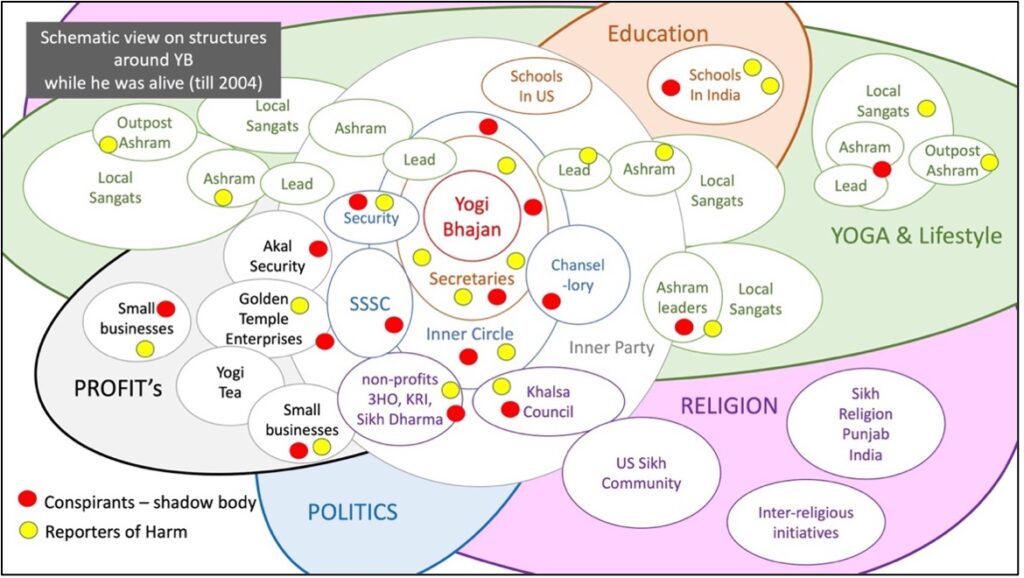 Structures, organizations, and responsibilities constantly changed and remained elusive and unclear to outsiders. Even to those close to him, he managed to compartmentalize many aspects of the world he created so that only he knew what was going on. Most atrocities took place in the "Inner Circle" and boarding schools in India. The further removed from these places, the less visible and palpable were the effects of the dark practices.
Despite his sickening and criminal behavior, he remained an enlightened being and inspiring spiritual leader to many, either because they really did not know or because their devotion to him blinded them.
Some of YB's followers in leadership positions copied his exploitive and/or sexually abusive behavior. A few of his key business lieutenants involved in criminal activities were convicted and jailed. Bhajan was never caught.
Group Websites
Critical Websites
Books
Documentaries
Other Resources