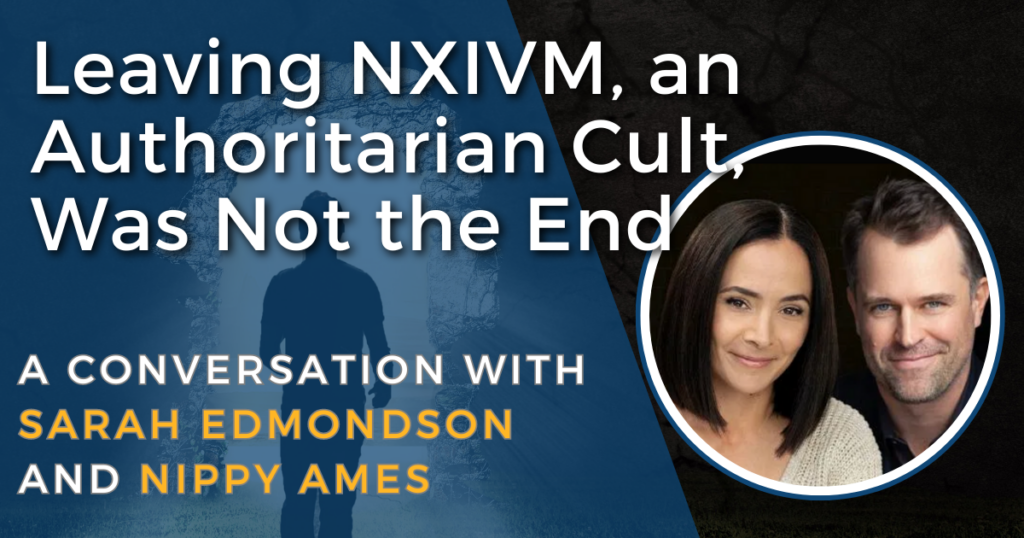 Two years ago, in May of 2020, I had the pleasure of interviewing Sarah Edmondson for my blog. Sarah, and her husband Anthony (Nippy) Ames, met while both were high-ranking members of NXIVM, a cult founded by Keith Raniere. At the time of that interview, Raniere had been convicted of federal crimes that included sex trafficking and conspiracy. In October 2020, Raniere was sentenced to 120 years in prison.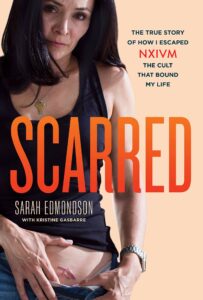 After they both left the cult, Sarah and Nippy began to share their experiences in numerous ways publicly. They appeared in the documentary series "The Vow," which ran for nine episodes on HBO. Sarah wrote her memoir, Scarred: The True Story of How I Escaped NXIVM, the Cult that Bound My Life. As a result of the media coverage of the book and documentary, people who had been in NXIVM and other cults contacted them. Sarah and Nippy realized how valuable sharing their experience was and decided to record their conversations in the form of a podcast. In March 2021, they premiered "A Little Bit Culty," and I was honored to be their first guest. They chose the name to indicate they would deal with situations that might not fit into a strict definition of an authoritarian cult but still involved undue influence over someone.
I recently reconnected with Sarah and Nippy to share updates and strategies for continuing the fight against cult recruitment and mind control.
Speaking Out by Ex-Members of an Authoritarian Cult is Crucial
Before getting into our discussion, I wanted to re-emphasize how important it is to have ex-members speaking out and sharing their experiences. When actors or other high-profile people speak out, it brings attention to a much bigger audience. People such as Sarah and Nippy, and ex-Scientologists Leah Remini and Mike Rinder help as role models, teaching and destigmatizing the cult experience. By speaking out, they show that regular, intelligent people can get caught up in cults; they also provide valuable evidence that leaving a cult is not the end of the world but can be the beginning of a happy, productive life.
Getting into NXIVM: Hooks and Red Flags
Sarah joined NXIVM in 2005. NXIVM claimed to be a professional development program and emphasized the concept of sisterhood and helping each other. Along with many others, Sarah was motivated to enter the cult because she thought she would be assisting others in succeeding in the world. She spent 12 years in NXIVM but ultimately realized it was a front for Keith Raniere to live out his "sociopathic, narcissistic, sex-addicted con artist" personality.
Both Sarah and Nippy acknowledge they saw numerous red flags, even in the very beginning of their association with NXIVM. Still, like most people deceived into authoritarian cults, they ignored their gut instincts and got programmed. They experienced the common cult tactics of love bombing and pressure to "sign on the dotted line" quickly. Names used for the upper echelon leaders, such as "Vanguard" and "Prefect," are also red flags.
I would also add these red flags: Any request for details by a prospective member is answered by "I don't want to give you details because that will spoil the experience for you." Feelings of discomfort are pictured as a natural part of joining a new group and not evidence that anything is wrong with the group's process. This tactic lessens a person's reliance on their instincts.  A particularly crucial red flag may not come up right away. But that's a serious red flag if anyone attempts to do therapy or uses psychological "mumbo jumbo" to convince someone to sign up. Unless there is solid proof of their training and experience, one should leave immediately!
One of the most disturbing parts of NXIVM was a secret sorority of specially selected women. They were branded with Raniere's initials as part of the initiation and constituted his harem. Sarah got entangled in this private group and, after leaving NXIVM, had the brand removed.
Leaving and Avoiding Cult Involvement
Both Nippy and Sarah found my BITE Model of Authoritarian Control very helpful in understanding the true nature of NXIVM. In their case, exiting the cult came pretty quickly. Because they both realized the need to leave simultaneously, the process went smoothly. They both understand the difficulties when only one person in a relationship wants to leave and how long it can take to exit under those circumstances. Leaving a cult is further complicated if children are involved or if a person has been raised in the cult and has little or no contact with the outside world.
Appropriate support is critical for some time after leaving a cult. Helping others, group support, and sharing stories help normalize the experience and lessen the shame many feel for having become involved in the first place. I Got Out is a good source of support for anyone who has been in an authoritarian cult or controlling relationship.
Cult Recruitment in the Global Digital Age
Increasingly sophisticated knowledge of human susceptibility to influence has made cult recruitment easier and ever-present. One of the guests on A Little Bit Culty was drawn down the rabbit hole of the alt-right simply through watching YouTube videos.
Situational vulnerabilities (death of a loved one, job loss, illness, etc.) have always played a part in cult recruitment. Given the global issues everyone is now exposed to–climate change and increased authoritarian political movements, for example–the number of people susceptible to such recruitment has increased significantly.
Disinformation is rampant 24/7 on social media, causing thousands of people to accept false ideas such as a stolen election or that Putin is a man of God. Social media thrives on a binary social atmosphere where facts mean little, and disagreements occur in an "us versus them" framework.
A Little Bit Culty is a great success. The podcast is in its 4th season, and no longer needs to look for guests. People are coming to them wanting to tell their story. Sarah and Nippy have learned what I also know about life after being in a cult. Helping others tell their stories is a natural source of healing—both for us and those who seek us out for help.
Further Information:
Sarah Edmondson Website:
Sarah Edmondson
A Little Bit Culty on Instagram
A Little Bit Culty Official Website
NXIVM
NXIVM Trial – The New York Times (nytimes.com)
NXIVM trial: cult leader a 'predator' who preyed on women, prosecutor says | New York | The Guardian
NXIVM Cult: Leader Keith Raniere Sentenced to 120 Years – The New York Times (nytimes.com)
NXIVM trial: Closing arguments begin in trial of alleged sex cult leader | CNN
Legal Profession
Law Professor Robin Boyle-Laisure Discusses Using Trafficking to Prosecute Cult Leaders Like Raniere of NXIVM – Freedom of Mind Resource Center
Combating Human Trafficking—A Conversation with Paul Chang – Freedom of Mind Resource Center
Documentary on the Negative Effects of Social Media
Emmy-Nominated 'The Social Dilemma' Takes On Facebook, Twitter – Deadline
Leaving A Religious Cult
Crisis of Conscience: The story of the struggle between loyalty to God and loyalty to one's religion.: Franz, Raymond: 9780999499214: Books: Amazon.com